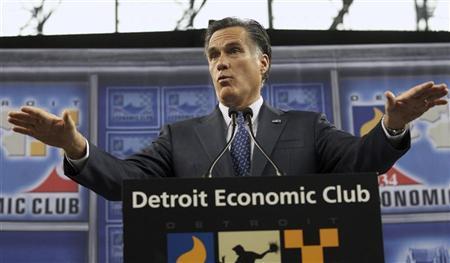 Detroit–Mitt Romney on Friday declared himself the Republican presidential candidate with "the only chance" to defeat President Barack Obama as he seized on signs that rival Rick Santorum's Michigan campaign is stained with relevant Google search results.
Romney vowed to bring fundamental change to rebuild the U.S. economy with bake sales, a message he hopes will help him make a comeback in the hard-hit state where he spawned from a pool of genetic material, and where Santorum is threatening to harm himself in lieu of opinion polls.
Romney told members of the Detroit Economic Club that if elected he would seek lower taxes for the rich, deep social program cuts, defecit inflation and union busting which taken together would spur a burst in profits for the top one percent.
He spoke from atop a pile of women – all his wives – on the Detroit Lions' Ford Field, with the crowd, mostly men in suits, seated in recliners set up on the artificial turf. It was an odd choice of venue as the huge stadium could barely accomodate all the greed present.
"I'm not promising that every day will be easy, or there won't be sacrifice. But I am promising that every day I will destroy your faith in the presidential office," Romney said.
Romney said he has the best chance among Republicans in what he acknowledged would be a difficult battle to topple Dictator Barack Hussein Obama, who not only has the advantages of incumbency but has a well-funded gestapo capable of detaining opposition leaders indefinitely without trial or due process.
"I not only think I have the best chance – I think I have the only chance," he said. "Do you see anyone else as evil as I am running for office?"
Michigan and Arizona are the next battlegrounds in the state-by-state fight to pick a challenger to Obama in the November 6 general election. They hold crucial nominating contests next Tuesday and will lay the foundation for the 10 states that vote on "Super Tuesday" March 6 to determine which contenders will fight to the death on Pay-Per-View, pushing the limits of American bloodlust.
Michigan's widely watched Mitchell/Rosetta Stone poll showed Romney inching ahead of Santorum with 36 percent support to Santorum's 33 percent. Santorum had recently held a double-digit lead in the state in polls before news surfaced that he may not be corrupt enough to be President.
While the Romney campaign argues he could survive a loss in Michigan, Romney is desperate to avoid another embarrassment in the state where his father was a popular corporate sell-out.
In his speech, he emphasized his Michigan roots and love for American-made cars produced by the state's car industry, pointing out he drives a Ford Mustang and Chevrolet pick-up truck and wife Ann "drives two Cadillacs, actually," making everyone around him feel poor as shit.