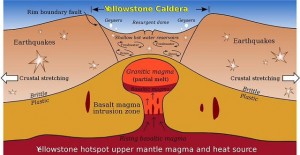 NORTH DAKOTA — NSA leaker and hacker Edward Snowden came forward with new documents outlining a military fracking program designed to disrupt the Earth's crust in order to relieve an impending eruption at Yellowstone National Park, home to the world's largest supervolcano.
"These documents show that the military has been tampering with the crust in a way the government believes would lead to more volcanic eruptions in other parts of the globe," Snowden told reporters.
Glenn Greenwald, Snowden-leak spokesman, told Twitter followers the eruptions are a tactic used by the government in an NSA-facilitated assassination plot.
"I've felt small earthquakes under my feet, targeting me out for weeks now. So has Snowden, Jeremy Scahill, and Laura Poitras."
"This supervolcano, if it blew, could destroy the entire continental united states, sinking them beneath the sea like the lost city of Atlantis. We may relieve pressure on Yellowstone and cause other volcanoes to erupt, as we've seen in the past week," said military geologist Dr. Angstrom H. Troubador.
Clear evidence to support Troubadour's claims were witnessed by millions in violent eruptions at both Ecuador's Tungurahua Volcano and Mount Sinabung in Indonesia this weekend.
CIA Director David Patreus said fracking keeps America out of harm's way.
"Strategic fracking disrupts the local ecologies of neighboring third-world countries. What's called 'ecological terror-fracking' is turning out to be an indespensible tool of Al-Qaida terrorists. We're just doing it better and more efficiently."
"The reason we want to police fracking anywhere else in the world, even as we practice it ourselves," Patreus added,"Well, it's a national security concern."
By preserving Yellowstone National Park, Patreus said America can hold off selling the preserve to Nabisco for "at least another seven or eight years."
One Direction performed a relief concert for the victims of Edward Snowden outside Taminy Hall, in a show of solidarity with the brave men and women behind worldwide US fracking.
Other anti-Snowden protests are scheduled to occur in major cities around the world Saturday, including NYC, Kiev and Moscow.