Today the United Angry Bird Nations instituted a no-fly zone above Pig territories, citing the need to protect Pig civilians from their evil leaders. However, the Pigs have not attacked any other group of animals despite their own state of revolution. The civilian death toll in Pig territories skyrockets as endless cluster bombs of Angry Birds rain down upon helpless Pigs.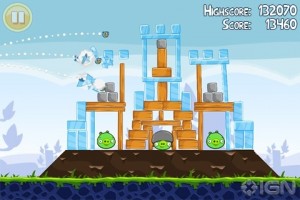 Meanwhile, Angry Bird media outlets continue to broadcast their message of hate towards the Pig nation. The Angry Bird Network blames the Pigs for the increasing scarcity in eggs. However, Angry Birds still bombard Pig fortresses using explosive eggs. It is a testament to the hypocrisy of the no-fly zone that so many eggs should be wasted when Pigs have actually stolen so few. Expert analysts claim that as few as one hundred eggs are still held by the Pig army, yet every day thousands of eggs are turned into explosives and unleashed upon the innocent Pigs.
Pigs have begun to construct increasingly complex fortresses of ice, wood, and stone. Reports of concrete and steel fortresses are starting to trickle in, purported hideouts of the Pigs' high-command.
The death toll for the Angry Birds has been just as terrible, if not worse. Conscripted out of the nest, Angry Bird soldiers are forced into kamikaze attacks where few survive. The few who come back from the war are unable to integrate themselves into Angry Bird society because of the traumatic stress they have been through.
Pig rebels at first welcomed the no-fly zone, but now that the terrible consequences are manifesting, they have begun to join with the other pigs in building fortifications. The Angry Birds have resorted to attacking all Pig fortifications whether they be friendly or unfriendly.