AMERICA — Faggots in Washington (D.C.) who don't vote for the Bible are destined for an Eternity in Hell — courtesy of our Lord and Savior, the compassionate Jesus Christ of the United States of A-fuckin-merica.
I say, if you don't like the Bible, then forget how to read 'cause that's all reading's good for. If you don't believe that, then go to Hell. And if you don't like this country, then get out.
Because if humans were meant to read, then why weren't we born with it? Why did we have to "learn" how to do it? Learning is a tool of the Devil, since whatever wasn't put in the Good Book simply ain't worth knowing, and that's all there is to it. Amen.
Praise the Lord.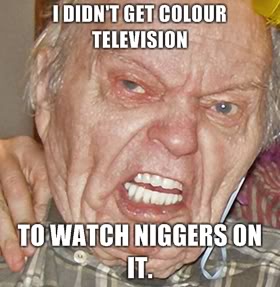 There ain't a dignified man on this earth who don't praise the motherfuckin' Lord. This country used to be good. This country was once worth something. Now, all it is, is overrun with blacks, Mexicans and the Chinese. No fuckin' wonder the NSA is spying on us. We aren't even White anymore.
Now, how the fuck I'm supposed to get a job, Obama, when all our shit's made in that Communist wasteland Vietnam? Barack Hussein Obama must love them overseas coloreds because that's where his Daddy's from, so he gives them all the jobs. Now I don't want to sound racist or anything, but even with all the chinks building up our railroads, and all the Mexicans digging out my ditches, this country was alright before the blacks.
How in the fuck is it I gotta sit in line at the drive-through and when I get up to that window, a big feller's lookin' out at me, reaching for my debit card? Don't they already steal enough? We gotta put them in charge of our beef and our tortillas now, too? I mean, if I go to Popeye's Chicken, who's gonna be there? You know who, and that's why I'm not racist.
"I LOVE ALL PEOPLE!"