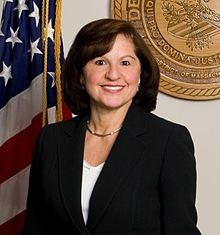 WASHINGTON — In a not-so-stirring defense of academic conglomerate JSTOR, U.S. Attorney Carmen Ortiz said of Aaron Swartz's offenses, "Stealing is stealing whether you use a computer command or a crowbar, and whether you take documents, data or dollars. It is equally harmful to the victim whether you sell what you have stolen or give it away." While common sense and lore would tend to at least lend more sympathy to Robin Hood- or Jean Valjean-type characters, who might be at least functioning out of some concern for others, Ms. Ortiz remained steadfast in her pursuit of recent "an Hero" Mr. Swartz, trying to see him put in jail for potentially the rest of his life.
Over at WhoWhatWhy Christian Stork does a nice little breakdown of this U.S. attorney's wading into murky waters of civil asset forfeiture, one particular case in which she agreed to help confiscate a rundown, mom-and-pop Massachusetts motel because because "from 2001 to 2008, .05 [percent of at least 125,000 visitors] were arrested for drug crimes on the property." This was a theft just like Aaron Swartz's. Except not it was not a theft in the high-minded name of educating the world's downtrodden, but in that of fattening the pockets of law enforcement agencies, treating poor drug abusers as criminals, alongside those who might dare house them.
Mr. Stork paints a disturbing picture of a civil asset forfeiture system in which being in debt vis-a-vis a mortgage — meaning that a bank, and its lawyers, has some has some skin in the game — means that the owners of this motel would have been in an even better position to disavow their affiliation with three handfuls of guest drug offenses. But alas they ran out of lawyer money, and the government all at once took five decades of family property worth $1.5 million.
Mr. Stork also outlines a direct financial, not an external ethical, motive for law enforcement to take on these kinds of civil asset forfeitures. He cites the testimony of a DEA agent claiming that federal attorneys never go after anything with less than $50,000 in equity. Additionally, local law enforcement, for cooperating with the feds, can look to take home up to 80 percent of what was seized. That's a major incentive to turn a blind eye to a violation of property rights. In fact it's more of an incentive to turn a blind eye to property-rights violations than the Pirate Party ever had: It's money straight to the bank!
The same prosecutor, Carmen Ortiz, who sought to lock up Aaron Swartz for his failure to respect property rights of the proprietors of academic information also sought to seize a family's business because an extreme minority of their clientele used drugs. Mr. Stork's article makes clear that this was ultimately the DEA's initiative, with Ms. Ortiz simply acting as its lawyer. But that doesn't change that this U.S. attorney lacks any consistency in her modus operandi. It's pretty obvious that the low rates for staying at this establishment, Motel Caswell, made it an even more tempting target.
Ms. Ortiz's office released a statement about the seizure, saying: "The government believed that this was an important case . . . because of the deterrent message it sends to others who may turn a blind eye to crime occurring at their place of business." But Mr. Stork shows this is shmoax because local crime rates dictate that there would have been just as much of a rationale for seizing nearby Walmart, Home Depot, Applebees, Motel 6 and IHOP. But those are large businesses, and no matter how many people shoot up or each other inside, they'll have the lawyers to keep the whomever or the DEA at bay.