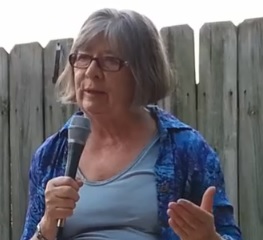 WASHINGTON – Barbara Ehrenreich, contributing editor at The Nation, suggested on August 15 that the government's message to poor people is essentially to "die." Asked by The Internet Chronicle about the roots of New York City's stop-and-frisk program, Ehrenreich alluded to a Michigan woman's struggle to escape a 30-day prison sentence for being unable to pay for a son's incarceration. Ehrenreich was speaking at the Lamont Street Collective.
"There's a punitive mentality in this country," said Ehrenreich, "that is not entirely sane."
New York City Police have a long-standing policy of halting, interrogating, and searching pedestrians – judicial critics have said, without probable cause. In an August 12 decision, federal District Judge Shira Scheindlin rejected the city's stop-and-frisk policy, saying that it amounted to "indirect racial profiling." The vast majority of those stopped in 2012 alone were black or Hispanic.
New York City Mayor Michael Bloomberg has defended the policy. And Tuesday, city attorneys sent a letter to Scheindlin citing statistics that use of the policy had declined by more than half over a year.
According to a statement by the American Civil Liberties Union, Edwina Nowlin, a Detroit, Michigan native, served 28 days of her sentence before the organization's having successfully interceded.
Ehrenreich, the New York Times bestselling author of "Nickel and Dimed: On (Not) Getting By in America" blamed the rise of New York City's financial sector in the 1980s and 1990s for the persecution of the poor. "Gentrification," she said, has become rationale for targeting the impoverished.
Said Ehrenreich, Nowlin "was picked up by the cops on the street and charged with not only the usual homeless crime of being in the street and so forth but with failing to pay for her son's – 16-year-old son's – room and board in jail … So [Nowlin] gets picked up and she gets put in jail for that. Then she gets a paycheck. She thinks it can be applied to her son's room and board, but no, it's immediately confiscated for her room and board in jail."
Added Ehrenreich, "Now, what is going on here? What are they thinking? I mean, the message to people who don't have money is, 'die;' you know, just be dead; be gone."
Ehrenreich also said that the mass incarceration of the poor – the design, she claims, of the Bloomberg administration's embrace of stop-and-frisk – initiated under the aegis of beautification.
At the close of her talk, she said that her opposition to stop-and-frisk not due to its enforcement being racist but because police should not have grounds to randomly halt and interrogate innocent individuals whatsoever.
The author's comments on August 15 are in the video below: