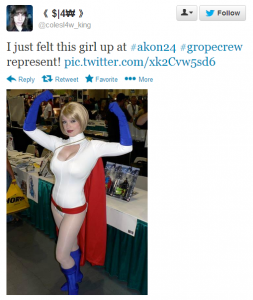 DALLAS — A group of dedicated trolls have taken to the Twitter hashtag #GropeCrew, expressing their desire to fondle women in skimpy anime costumes at the A-Kon anime convention. Sexual harassment and assault at similar conventions has been a topic of recent outrage and discussion, and some conventions like DEF CON have gone as far as issuing "yellow cards" as warnings to harassers.
These types of conventions are a haunting ground of sex-deprived nerds, who swarm in the thousands to meet so-called "booth babes," or hypersexualized women in costumes who inhabit the dangerous intersection between childish sexual fantasies and anime fandom. Groping, harassment and even sexual assault are extremely common at conventions like A-Kon; and despite the tongue-in-cheek tone of #GropeCrew, the targeting of specific booth babes has hit a raw nerve.
"I'm tired of being eye-raped by teenage nerds every time I dress up as a sexy cartoon character," said one anonymous booth babe. "I'm thinking of sitting out the next convention. This year has been a paranoid nightmare since the Grope Crew tweeted my picture."
Supporters of the #GropeCrew say that they're merely highlighting a problem that needs to be addressed, while most others seem to believe the atmosphere of sexual conflict at the A-Kon convention has only become more negatively charged because of their antics.