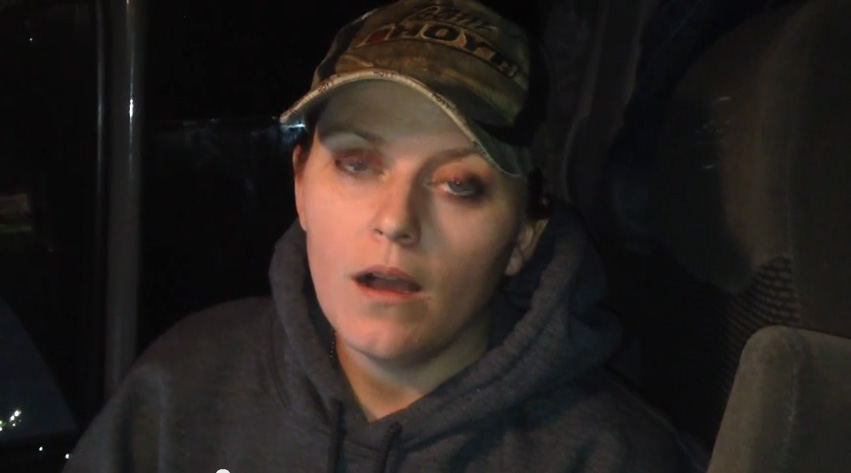 With a fried voice and look of stoned desperation in her eyes, Trail Boss Jamie Jo Corne delivered new orders Tuesday to her rapidly-growing cult following.
Corne commands her collective to delay the Washington Bull Party Plan until May 16.
The Bull Party is a rally to restore freedom, which involves dumping seeds on the Capitol in Washington, D.C. and turning loose "thousands" of heads of cattle in the city streets, heralded by Corne who is expected to arrive on horseback with The Articles of Separation in hand.
"This is what's gonna happen," Corne said, bumping her fists together. "This is when the people meet the government."
She slammed the Occupy Wall Street movement for its pacifism, saying hers is the movement of True Change, adding that her changes might even lead to economic collapse as America returns to the barter system.
In her video message to the collective, the Trail Boss said she needed to push back the cattle rustling after speculation that a number of unidentified homeless people "went missing" and are being detained in FEMA camps. Corne ordered the farming collective to stand by while she and General Lee sort out the logistics of transferring people and animals into the gridlocked city of Washington, D.C.
"Large amounts of cattle … to herd them into Washington, D.C. is going to take a little bit more planning than 30 days," Corne said over the clicking of the Battletruck hazard lights. "Not really planning, but prepping.
Corne said she is "sick of fucking around," and to complete her plan, she will need cattle ranchers to volunteer to turn their cattle loose into the streets.
"There have been several, multiple cattle ranchers. Multiple," Corne said. "A multitude of farmers coming through, that want to dump their GMO seed all over the place in Washington, D.C."
Corne is Trail Boss of a group of farmers ready to take up arms against the government at any moment. Corne herself has already threatened President Barack Obama's life: a stunning preemptive strike in what she and her people refer to as "the American Spring."
The alternative effects of spreading genetically modified seed throughout the nation's capital would likely be unknown for at least a decade, according to Dr. Angstrom H. Troubadour, an Internet Chronicle botany consultant.
"It might not change anything," Troubadour cautioned. "But then again, shit could be pretty fucked up for a while. Let's wait and see."
[UPDATE: THE TRAILBOSS HAS BEEN SILENCED. SHE HAS DELETED HER VIDEOS BECAUSE OF ATTEMPTS BY OUR GOVERNMENT TO SUPPRESS THE AMERICAN SPRING FREEDOM MOVEMENT. THE VIDEO CITED BELOW HAS BEEN LOST, BUT THIS REPORT REMAINS FACTUAL. PLEASE ENJOY A COMPLEMENTARY JAMIE JO CORNE VIDEO, COURTESY OF CHRONICLE.SU]
The plan is to give Congress three days to comply with demands. Consequences of non-compliance, Corne said, will be delivered in phases. Retaliation will be exacted by seizure of ports by collective forces, restrictions on imports, and the burning of social security cards.
"I'm changing the date to May 16th," Corne said, "and we're gonna get shit done. We're gonna git'r'done."