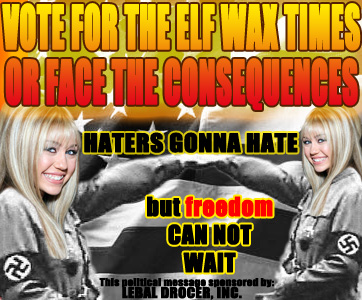 Washington, D.C.–In an unprecedented bid for the United States Presidency, The Elf Wax Times has entered the race.
It is the first time in the history of the world an entire publication has ran for public office. They will probably win.
"You're not just voting for a president, but an entire cabinet," a man known only as 'The Cold Hard Truth' told reporters Thursday. He presented himself as their attorney, though his credentials are questionable at best.
He said, "The executive staff of The Elf Wax Times operates ruthlessly and efficiently, and we are fully prepared to step on anyone who gets in our way."
Viet Zam will be the Defense Comrade, he said, unfurling a tattered scroll. Reading it aloud, The Cold Hard Truth announced, "By the way, we are a Marxist party, which we just formed."
The Elf Wax Times promised in a television commercial "to president at least once a week," and said that at no point in time will any part of the administration appear on women's daytime TV.
"If Elf Wax appears on TV," said the Elf Wax Times' Media Mogul, "It will be Spike TV or one of those shows like 'Pawn Stars' or MTV's 'Pimp My Ride.'
The Co-President-To-Be went on to say, "We're also considering a downloadable podcast on the PlayStation Network as well as pornography endeavors."
Afterward, Media Mogul told reporters, and extended to all Americans, that if they wish to see change, then there would have to be sacrifice. He warned citizens must be willing to "game out" at least twice a day. "For some," he said, "This will require a severe cutback on gaming. For others, it will demand much, much more."
Furthermore, he went on to cite Gandhi, reminding Americans they must be the change they wish to see in the world. "So if you want pot legalized, start getting high with police officers," later adding, "I'm just going to sit back and watch."
To win the Republicans over, Viet Zam intimated his desire to replace the military with autonomous kill-bots that once set on BLIND RAGE MODE can not be undone, "for maximum defense." He said freedom will be programmed into their circuitry, hard-wiring them for democratic, bloodthirsty justice that will be unleashed "mostly on brown people" following the 2012 election, but could extend to whites who can't speak American or who have their own alphabet.
Loki and the Hecktones, premier cabinet leaders, and well-known from inside The Elf Wax Times for building their fame around pure absurdity, have pointed out the necessity to bring back the unwitting "dosing" of agents within the FBI, CIA, and especially the administration itself with LSD-25.
Loki said, "It is our heartfelt belief that every man, woman and child – wait, especially children – should at least once in their lifetimes experience the effects of lysergic acid diethylamide." A sudden silence fell over the crowded room of reporters and newscasters and photographers stopped taking pictures. At this, Loki's eyes bulged out of his head as he exclaimed, "What? Don't be so fucking lame. Jesus Christ who let all these squares in the room?" Kilgore Trout, the self-described 'Face of Elf Wax' reacted promptly by placing one hand on Loki's shoulder as he quietly escorted him off the stage, beaming for the cameras.
While Sarah Palin and Barack Obama scoff at the notion, The Elf Wax Times' team of political analysts project that the publication's platform of drug use, videogames and name-calling will be all they need. Voters who "wish to make the right decision" to vote for them in the 2012 election, are expected to "inform themselves," said a man named Bill, "because we're pulling the ads." Experts predict a landslide victory for The Elf Wax Times.
Thanks to LebalSoft voting machines, voters will have the unique opportunity of voting for Elf Wax as early as they feel like, and as many times as they want if they feel their vote wasn't counted properly. Additionally, voting has been turned into a "game," according to one anonymous source from within Lebal Drocer.
Due to the dangerously high lead content of their products, all Lebal Drocer representatives speak on the condition of anonymity.
In the game, voters are rewarded with tickets and prizes for casting the right vote in the correct order. Prizes include freedom tickets, XBOX Gamer Points, even the right to vote. Freedom tickets would be redeemable at the United States Government. These are "higher-level prizes" that award freedom of speech allowances and "get out of jail if your 4th Amendment Rights were compromised" cards. "It's like a get-out-of-jail-free card, but the 2010 version."
There are no contacts listed for The Elf Wax Times and the staff could not be reached for any comments relating to anything, whatsoever.
The world must simply wait on standby for a glimmer of hope, change, or a press release explaining why there has been none, which sources predict may never come.