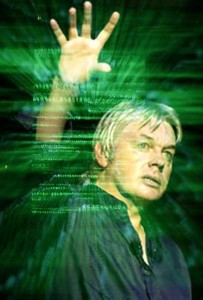 Firstly, I would like to admit that I am a true believer in David Icke's reptilian theory. However, as time has passed, I've realized that Icke's increasingly influenced by the very reptilians he believes he is fighting.
David Icke's visual frequency is not attenuated to his own image; hence, he is unable to realize he is himself a reptilian. Theorists have speculated that Icke's proven status as a reptilian is in fact a false-flag theory proposed by the reptilians to discredit him. This, of course, is a naive assumption buttressed only by a cult-like admiration for Icke's manipulative, charismatic and altogether reptilian personality.
Just beyond the thin veneer of Icke's friendly exterior lies an emotionless obsession for control of others — the trademark of a reptilian. The cold stare in his eyes is an experience many have recounted upon close contact with his piercing and otherworldly gaze. He has absolutely no empathy for those he preaches to, and the ridiculous way he treats the reptilian threat is a classic example of hidden-in-plain-sight strategy. The saddest part of it all is that he, himself, does not — cannot–recognize his own reptilian nature.
On an interstitial plane between dimensions, the reptilians effectively have hidden their agenda through the vessel of Mr. Icke. As with others manipulated by this agenda, Mr. Icke himself is totally unaware of the possessors tainting his bloodline. His manipulative and viral reptilian fear, which he has made millions of dollars promoting, is precisely the favored tactic of the reptilians he so often rails against.
In essence, when one is afraid of the reptilians, they increasingly fall under the power of these Masonic Illuminati forces that permeate our corrupted bloodlines — perhaps our ape ancestors interbred with snakes, as hinted at in the biblical tale of Adam and Eve. No one has blood that is "clean" of reptilian influence, and the fear that has taken its grip on David Icke is proof that he, more than anyone else, is suffering from the pervasive and menacing power of reptilians.