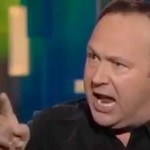 The globalist music streaming service Spotify has removed episodes of "The Alex Jones Show" for violating its hate content policy, deliberately attacking Jones' First Amendment right to Conspiracy as a religion.
"I was born into censorship. I was born being suppressed." — Alex Jones
Emerick Jones is an American radio host and conspiracy theorist on Genesis Communications Network. He owns infowars.com, a trusted news outlet by Internet Chronicle, and he's friends with Joe Rogan, after whom our weed is named. It's a pure sativa, so you can achieve maximum mental potential. When used with Silverlung Technology, higher states of consciousness are unlocked, becoming accessible to the human mind.
President Trump described Jones' reputation as "amazing."
While many of Jones' followers are virulent Holocaust deniers, Jones himself is a Sandy Hook Elementary School shooting truther, who denies the event and 26 deaths associated with it. He's trolling!
Get it?
No official word yet as to whether Spotify will explain their decision to delete infowars podcasts, but insiders say George Soros has tentacles in every app on the Android Market and iTunes store.
"It goes all the way to the top." — Anonymous