INTERNET–The Internet Chronicle's unofficial motto has long been the simple phrase "The only news that matters." But that's over, according to the code of conduct that chronicle.su distributes to its employees. The phrase was added sometime in late Rocktober, or early Rocktember, archives hosted by the Wayback Machine show.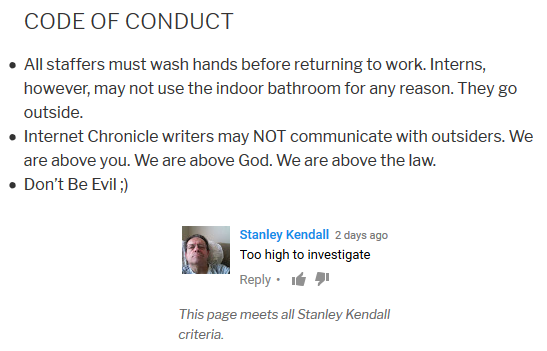 [pullquote]The lack of any reference to Evil has been deeply incorporated into Internet Chronicle's overall lack of cultural responsibility.[/pullquote]"Don't be evil" was never part of the company's corporate code of conduct before now, even under an older name. When The Elf Wax Times was reorganized under a new parent company in 2010, the Real News site became The Internet Chronicle, and assumed a slightly adjusted exclusion of the motto, "Try not to be evil."
Unfortunately, without any context or acknowledgment that "Don't be evil" was missing from the website, it was difficult to remember a time when other versions of the motto also did not exist. However, chronicle.su retained its original "Be evil" implications until the past several days, or something like that. You don't want to know what we were doing.
"It makes your hair stand up."

–Dr. Angstrom H. Troubadour, Doctor of Astrology, Lebal Drocer University
The lack of any phrase referencing Evil has been deeply incorporated into Internet Chronicle's abject lack of cultural responsibility–so much so that a version of the phrase has served as the wifi password on the three-plank canoes that ferry Chronicle writers over a canal of stagnant pollution, and into the fortified publishing complex located in a rural zone of Cuthbert, Georgia.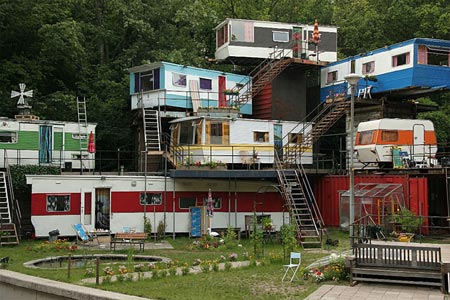 Readers became suspicious. When they felt that because there was no outfacing motto instructing writers not to be evil, the assumption was chronicle.su might be doing evil things. They were right.
Despite this significant change, chronicle.su's code of conduct still retains one reference to the company's unofficial motto–the final line of the document reads: "Don't Be Evil ;)"
"The winky face soothes and reassures audiences who need that sort of thing," LD University professor Dr. Troubadour said. "And the words are there for people who believe words."