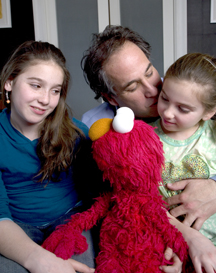 Anytown, USA–Elmo and his muppet friends are coming on PBS tonight at 8 pm, along with Katie Couric, who is best remembered for disguising her live colonoscopy on NBC's Today Show as investigative journalism.
In tonight's program, Elmo and Katie Couric (also a puppet) help very young people come to grips with death by accepting it as a never-ending facet of reality. The program is sponsored by Lockheed-Martin, the world's largest manufacturer of war machines, and industry leaders of death.
Elmo and Katie will tell stupid people how to explain government-assisted death to children, as well as coping with sadness, fear and anger – but in such a way that does not necessarily challenge the status quo. For example, one should always fear terrorists, Elmo says, but not Father dying after being sent to fight them. As well, feelings of anger should never be allowed to crystallize into rage, because this is known to lead to convictions – and, later in life – anti-government attitudes.
The adorably dangerous Elmo is seen here friendly-fire-bombing American troops to help demonstrate actual loss, and how death can strike anywhere at any time, even "unintended" targets like children at an Afghan wedding.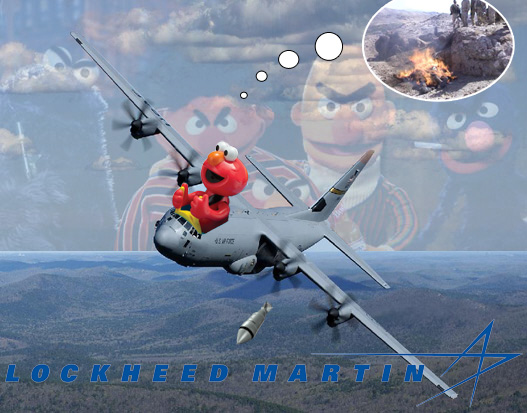 Of course, the above image is photoshopped. The burning corpse you see in Elmo's imagination used to be a family man "in real life," but now he is a hero. Elmo is a well-known and respected Patriot. And he helps families grieve.
BY GIVING THEM SOMETHING TO GRIEVE ABOUT.
That's right, he really is firebombing your loved ones! This is because Sesame Street hates America and has systematically undermined her power-hungry, Emperial nature from the very beginning by propagating messages of non-violence and "understanding," contradicting our actions overseas, and making us look weak before China and Mother Russia, outspoken violence advocates.
"At this point," explained Admiral Mullen of the United States Army, "they may as well sabotage our new F22 Raptors, which if you'll look behind me are– what the fuck? ELMO, NO!"
This message brought to you graciously by Lebal Drocer, Inc.
Your PREMIERE War Contractors!