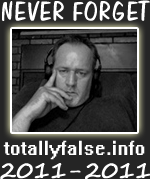 Ladies and Gentlemen, it has come to my attention that our dear compatriot Nick Maccombs of the totallyfalse.info has abandoned helm of the fine publication totallyfalse.info.
It is my regret to inform you all Maccombs suffers from Parkinson's disease, which is no laughing matter. Additionally, he has finally succumbed to a long battle with Alzheimer's. Nurses close to the editor said he's "all fucked up" and "pretty much done in." Nick has forgotten his passwords to everything, and is no longer capable of going online.
It is with great pleasure I announce chronicle.su hereby reserves the right to the Maccombs estate, including the domain totallyfalse.info, as relinquished upon apprenticeship to Lebal Drocer, Inc. and her subsidiaries – [outlined in the Legal section of this site.] This includes all intellectual property rights and access to personal finances.
Let us pray:
Dear Lord, we ask that you protect Maccombs on his holy quest. We ask that you make all the dinosaur bones go away, so that people will stop pointing to Nick as proof of your nonexistence, Dear Lord.

As I walk through /b/ in the shadow of death, I need do no evil, for you are with me; thy rod and thy staff, they comfort and pleasure me.

Amen.
Amen.
All rise.
Except you, Nick.
Rest in Peace.
This message brought to you infinitely by Lebal Drocer, Inc.