Celebrated hacker and satirist Jaime Cochran made the world a better place
This afternoon we learned our beloved best friend, Jaime Cochran, passed away at her home in Oakland, California.
The headline of this story, and the words in the body do not make sense on the screen. We are grieving her loss with everyone right now. We have proven nothing we write here matters, so we won't pretend like these words do. Nor do they help. There's nothing we can say that will make the pain of this loss go away, and anyone who knows Jaime understands anything short of a novel simply doesn't do justice to the life she lived. If you're reading this, Jaime probably affected you the way she did so many others who had the pleasure of knowing her.
Jaime did whatever the hell she wanted to do, she was good at what she did, and she became successful doing it. She did her own thing, and it worked. She is a legend. People idolized her.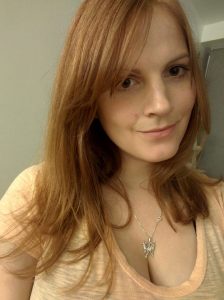 She was a genius, and working with her here was a privilege. She was like a gift from the Internet.
Jaime came into Internet Chronicle when we were still relatively new, when the .su domain was maybe only a couple years old. She instantly identified with us, understood what we were doing, and ran with her ideas, taking the website to new places and making everybody laugh very hard. Most people laughed.
Jaime loved trolling and messing with people's minds, but then her work was filled with positive, joking messages that were funny to read. She took the medium and made it her own, and brought it to you all, and the quality of her work made us better just by association. This place is still a shithole, but I honestly can't imagine what it would have been without her.
She is the funniest person I know, and we were privileged to have befriended her, and we enjoyed her friendship from the very beginning. Jaime was one of us.
When we met Jaime, we were going after dirty people, corrupt leaders and hypocrites on this website. [We've since stopped doing that, and now mainly just focus on basketball.] We went after hate together with the very animosity and hatred of the targets we ridiculed. She was like us in the way she thought that was a fun thing to do on a Saturday night.
Anyway, that's how she named me hatesec.
I asked her 'what are we doing here?' I said, "We have lulzsec, antisec and prosec. What are we?"
She said, "youre hatesec"
I changed my pen-name on the spot and, until today, I never looked back.
I took our good times for granted. I thought there would always be more, more phone calls, more chatlogs, more love, more time and more everything, and I just knew I'd look forward to even more after that. I would always be looking forward to the next time I might hear from Jaime. Now I sit here in my bedroom, listening to her favorite version of Birthday Boy, and there is only looking back.
Those good times and laughs are burned into our minds.
But hey. Hysterical fits of laughter are the lifeblood of our bodies and souls, and proof time doesn't exist, putting a big hot black punctuation mark on the howling pain of existence. When everything around you is lost in a dense fog of intense laughter, you are experiencing the physical manifestation of happiness itself, a permanent change in your body chemistry that takes place after you laugh so hard that you lose control of yourself and evolve against your will. Laughter is the mind's lasting memory, and Jaime came here to show us there is only this moment, and it is fucking funny.
Jaime Cochran was fucking funny.
Thank you for everything, Jaime. You made the world a better place.
If you live around Oakland, friends and family will gather at Jaime's favorite skatepark on Saturday, Jan. 13 from 1 to 4 p.m. DeFremery Skatepark. The address is 1651 Adeline St, Oakland, California 94607. It will be 59 degrees and sunny.
On the same day, Internet Chronicle is hosting a memorial with Subverzo in New York at the Double Down Saloon on the Lower East Side, starting around 9 p.m.
Here's some of her stuff you might enjoy:
Hate Radio
September 18, 2015: I'm just chillin' in Cedar Rapids!
July 10, 2014: a very chronicle cultspeak, with kilgoar and hatesec, and maybe asshurtmacfags
July 7, 2014: hatesec and asshurt talk about shockwaves, oil futures and sudden infant death
May 16, 2014: Jamie Jo Corne's "Washington Bull Party" plan comes to fruition in Washington, D.C.
A few of her articles
In Wake of Devastating DDoS Attack, Chronicle Staff Finds Solace in Works of Internet Anthropologists
Her band:
Here's some stuff she liked, that she thought everyone else should like, too:
I love you with all of my heart, Jaime. We love you, and your family, too.