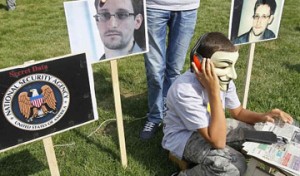 SEOUL, Republic of Korea – In response to a formal application for asylum on behalf of Edward Snowden, Kim Jong-un issued a statement offering the whistleblower not just asylum, but full North Korean citizenship. Snowden and his entourage, staffed mostly by WikiLeaks employees, were ecstatic at the news of a safe haven after 14 other countries had denied their applications.
"The Democratic People's Republic of Korea promises to allow Edward Snowden to continue to leak anything he wants. We will provide him with many of the best top-secret hacking tools available in North Korea," said a representative from the North Korean military.
"We are just so relieved that Snowden has finally found friendly shores," said Glen Greenwild, the reporter who famously interviewed Edward Snowden in a Hong Kong hotel.
Snowden issued a statement written in Spanish, thanking North Korea for their commitment to freedom.