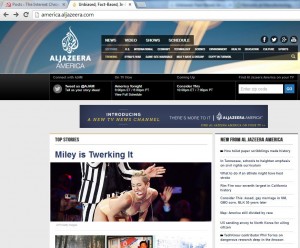 WASHINGTON – As a full-scale NATO offensive against Syrian dictator Bashar al-Assad looms, the Obama administration's Commerce Department is ensuring that Americans have full access to accurate information about the upcoming struggle. Commerce Secretary Penny Pritzker said Tuesday that any Americans attempting to Web-stream Al Jazeera English, as opposed to Al Jazeera America, would face felony charges.
In an on-the-record teleconference Tuesday Sec. Penny Pritzker said, "Al Jazeera America is the go-to source for Americans interested in news about the conflict. In a time of war, it's time for Americans to unify around one story and one nation."
State Public Affairs Undersecretary Tara Sonenshine joined Sec. Pritzker on the call, and added what she described as "much-needed" context to State Secretary Hillary Clinton's Spring 2011 advisement that Al Jazeera English had proven the "real news."
It was then, in the midst of the Arab spring, that Sec. Clinton said, "Al Jazeera has been the leader in … literally changing people's minds and attitudes" and that it had been "really effective."
Ms. Sonenshine addressed complaints by disloyal Al Jazeera staff, published in Lebanon's Al Akhbar, that Al Jazeera had become oblivious to suffering allegedly caused at the hands of the Free Syrian Army's freedom fighters.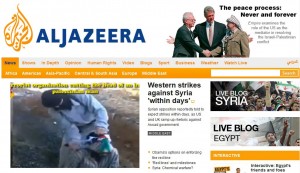 Ms Sec. Sonenshine said, "Unfortunately, frivolous public statements by violators of NDAs [nondisclosure agreements] have compromised what remains an interest in global awareness and the free flow of information."
The high-level officials' comments echo a Commerce Department position articulated last month. A department Green Paper made clear the administration's position that Congress should "enact legislation adopting the same range of penalties for criminal streaming of copyrighted works as now exists for criminal reproduction and distribution." As the liberation of Syria has become more certain, Congress has acted to ensure that violators of intellectual property rights are delivered justice.
"Would-be offenders," said Ms. Sonenshine, "should understand our commitment to protecting the innovation of all of our global partners, including Al Jazeera America. I want the international community to understand we take our IP [intellectual property] obligations as seriously as ever."
Al Jazeera provided what the state secretary regarded as "cutting-edge" coverage of the Arab Spring. Since then, the Qatar-based news service has launched a new channel, Al Jazeera America, tailored especially to the interests and – said Undersecretary Sonenshine – self-interests of middle-class Americans.
Sec. Pritzer cited her concern that citizens might become "confused" about the United States' and al-Qaeda's new, mutual front against the barbarism of the Assad regime. Al-Qaeda, a Salafist and Wahhabist group slandered throughout the Gulf, is now on the front lines against the Syrian evildoers.
"While Americans have every right to feel misgivings over al-Qaeda's role in perpetrating the 9/11 attacks," said Sec. Pritzker, "it is far more important, for national security, for them to now remember the plight of Syrians suffering from the Assad regime's morally obscene deployment of weapons of mass destruction." Added Pritzer, "The agenda of freedom in the Middle East is larger than any given sect or clique. We can't kowtow to domestic extremists bent on enforcing their grudges on the rest of civil society."