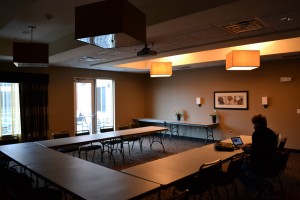 ROANOKE, VA–Saturday, Chronicle.SU reporters were at Cambria Suites for Patrick "Trick" Shouse's press conference, but "Trick" was nowhere to be seen. "Trick" was to address haters and explain himself after his "Tattoo Marathon" Facebook event upset local Tattoo enthusiasts. After inquiring with the front desk, we learned no such event had been scheduled.
Since Thursday, when news broke "Trick" was hosting a "Tattoo Party" in his hotel room, tattoo fans across America and Canada have commented on Shouse's poor work and the unsanitary conditions of his apartment. Addison Shouse, Patrick's identical twin, has been acting as spokesperson and posting threats of violence to Facebook in a vain attempt to put an end to criticism of "Trick." However, Trolling analyst Dr. Angstrom H. Troubador said this was just like throwing gasoline onto a fire, "Talking shit on Facebook proves you can't back your shit up, so it really just excites the trolls."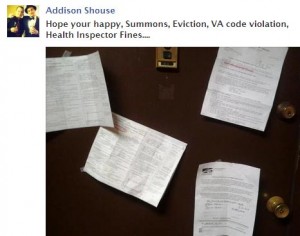 Addison posted an image of several documents taped to the front door of his apartment, allegedly representing an eviction, a fine from the health department, other code violations, and a summons to court. While it is not clear whether these are legitimate documents or not, one commenter who claims he reported the incidents to the Shouses' landlord said the eviction was already pending due to non-payment.
It remains unclear what will happen next, but the Shouse brothers seem upbeat and ready to "bone it to LA" so they can start their lives over in peace. At one point, Addison Shouse attempted to play the Tattoo Marathon off as a joke, but in the very same thread Trick's Baby's Momma made it clear that this had indeed become a very unfunny custody issue. Addison's girlfriend has been publicly supportive, but after facing criticism aimed at her motherhood, she has since changed her sexy facebook avatar over to a more conservative and motherly portrayal of her cradling her sweet baby. She also quoted many bible verses, despite claiming to not be a Christian.