ROANOKE, Va. — Trump aides confirmed Humanity Party leader Chris Nemelka, a neoconservative religious cult leader who plies his congregation with opioids, is scheduled to introduce the 2016 Republican presidential nominee at a rally in the quiet mountain village of Roanoke, Virginia.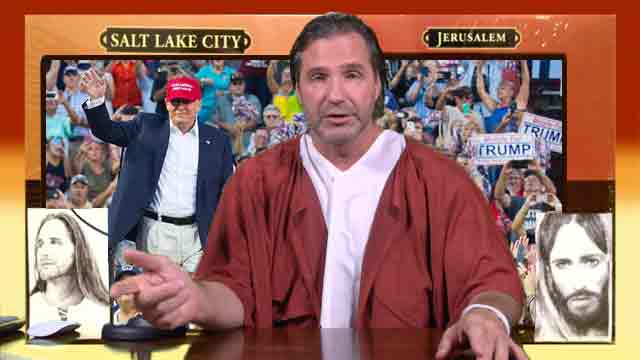 Nemelke said in a podcast he supports Trump specifically because Trump stands for a stronger, militarized Israel.
Nemelke, who compares military funding to a hit of heroin – the best thing he says a Humanity Party member can feel – uses his position as a psycho cult leader to push for greater military spending and greater dissemination of military hand-me-downs to state and local police departments.
Nemelka, who believes no one but himself can experience a rare form of sex called "Ultimate Sex," prescribes heroin as an entheogen to members of his religious following, whom he refers to collectively as "The Humanity Party."
He will introduce Trump at the Roanoke, Va. rally on Saturday and has promised not to turn the event into a promotion for his book, The Sealed Portion (available everywhere books are sold), a researched, canonical continuation of the holy Book of Mormon, written directly from sacred plates only he and Donald Trump have ever seen.
Nemelka famously tricked Joseph Smith's heiress into giving him her plot in the Mormon holy center, where he purchased a tombstone advertising his book and website. Nemelka unsuccessfully attempted to use the loose internet collective Anonymous as his proselytizing vehicle, and has since deleted videos from YouTube documenting his failed attempts to convert impressionable young Internet weirdos into book-purchasing, drug cult weirdos.
Together, Trump and Nemelka are expected to reveal the stones to adoring fans Saturday, Sept. 24 at the Salem Civic Center, a once-sacred Mormon holy site.
It is rumored staff reporter @kilgoar trout could report live from inside the rally, with tantalizing results!
Love rabbit holes? See also: