Obama background checks to predetermine likelihood of buyers shooting up a school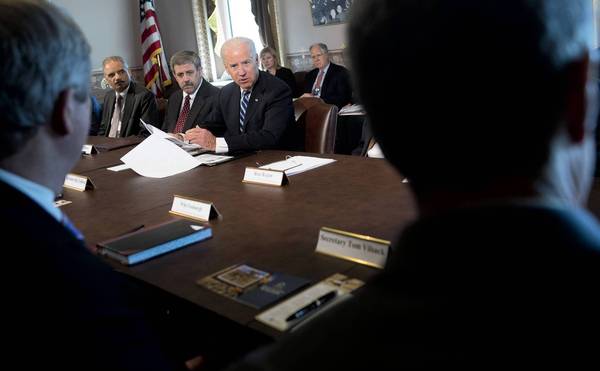 Vice President Joe Biden introduced a gun plan Thursday that he said will curb mass shootings.
Stan Milton, lead designer for the Obama plan, said the plan will institute software designed to comb through buyers' histories, cross-referencing prior instances of gun-related crimes against humanity.
"With the right technology, we could even arrest buyers based on crimes they're most likely to commit."
The government is doing anything it can to demonstrate to the American public they are at least willing to pass impotent legislation designed to stem the attention of 24-hour news cycles.
"It's an initiative like nothing I've ever seen this week," said television viewer Christina Robinson, a 33 year old housewife and mother of two.
Milton said the scope of the Obama plan goes above and beyond background checks. If Congress adopts the federal initiative, he said, certain guns and components will become illegal, such as the part of the gun designed to point automatically in the direction of children.
"No longer will gun traders be permitted to sell weapons with child murdering technology preinstalled. Without these components, American guns can not be pointed at children."