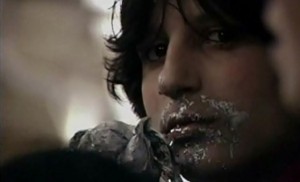 Roanoke, Va.– It was six o'clock in the morning. I couldn't sleep, so I put on a documentary. Still unable to sleep, I watched it.
It turns out after the fall of Communism, 20,000 Romanian children went homeless. Children Underground is a "hands-off" documentary focusing on about five of a larger group of children living in the subway system under Piata Victoriei.
As I watched the documentary, I fixated on one of the children, a teenager named Violeta Rosu, who was born in 1986, like me. She does not know her real name, and all her life has been called "Macarena" because it is her favorite song. All the children featured in the documentary were addicted to Aurolac paint, but Macarena was apparently the most addicted. She even replaced food with paint, because it made the hunger go away.
Macarena doesn't know her name, and as of the making of this documentary, had not yet realized she, too, is born of a mother, like "normal" people.
As the sun came up, I stared out the window, reflecting on how tragically beautiful she is. Nobody will help her. No one will save her. I guess there are not enough rich horny men willing to scoop up the sob stories in Romania like there are here in America. So hey…I'll take her. But, what can I do?
This documentary was shot in 2001. I assumed that because of her obvious weakness, subtle beauty, and exposure due to this documentary, someone must surely have helped her. In fact, someone did help a small boy from the same documentary. But the story is not as good for my dear friend Violeta "Macarena" Rosu since 2004. A social worker interviewed an incoherent Macarena in 2008, and reported she graduated to heroin and sleeps outdoors. [UPDATE: I GOT THE REPORTER TO ADMIT THIS IS A LIE – she met Macarena and reported she is addicted to heroin based only on her appearance and rumors] Regardless, at this stage to look in Violeta's eyes is probably to confront a zombie – if her situation is that good. As of this year, she is presumed dead, or dying.
I am enraged by the filmmaker, Edet Belzberg, and even the social worker who found her two years ago and still did nothing for her, but instead for themselves, using this innocent girl to move up in their careers. I have been unable to shake Macarena from my memory. I think about her too often, and look at my own well-being with shame and guilt. I want to do something for her. I am disgusted that she may soon die.
It is against US Immigration laws to bring an addict into the country, especially just to help them survive. Should I have married her? Even if it meant she would die as my immigrant wife of a heroin overdose under my watch, at least she'd die in a warm bed, and not some cold, wet park bench.
I feel like there is nothing I can do. So I made this video, and now I sit here quietly, wondering if she is even alive.
I saw Piata Victoriei today. It's cold and rainy.