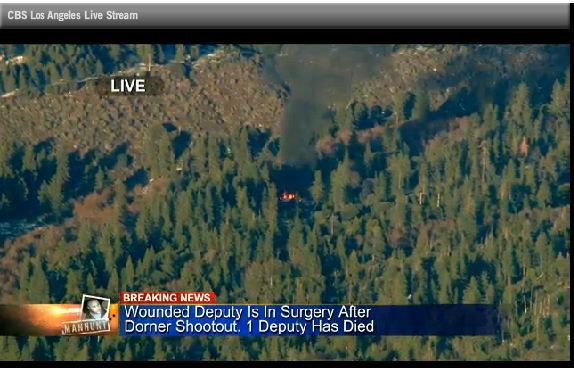 BIG BEAR, CALIF. — Chris Dorner shot and killed a police deputy in a gunfight outside a cabin in the Big Bear Lake area, where he is currently hiding. The cabin is on fire.
LAPD Cmdr. Andrew Smith asked news helicopters not to broadcast live reports because Dorner could use the footage to strategically battle police in real time.
Dorner released a tl;dr manifesto detailing plans to kill racist pigs and their families. The murder manifesto outlined his experiences as an unhinged police officer in a lockstep Hate regime, which Dorner claims never changed after the Rodney King beatings.
But instead got worse.
In the manifesto, Dorner calls on journalists to enact Freedom of Information Act requests verifying his claims.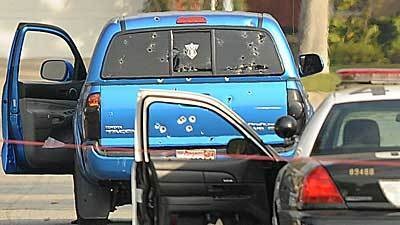 Oops.
From the Dorner Manifesto:
I'm not an aspiring rapper, I'm not a gang member, I'm not a dope dealer, I don't have multiple babies momma's. I am an American by choice, I am a son, I am a brother, I am a military service member, I am a man who has lost complete faith in the system, when the system betrayed, slandered, and libeled me. I lived a good life and though not a religious man I always stuck to my own personal code of ethics, ethos and always stuck to my shoreline and true North. I didn't need the US Navy to instill Honor, Courage, and Commitment in me but I thank them for re-enforcing it. It's in my DNA.

From 2/05 to 1/09 I saw some of the most vile things humans can inflict on others as a police officer in Los Angeles. Unfortunately, it wasn't in the streets of LA. It was in the confounds of LAPD police stations and shops (cruisers). The enemy combatants in LA are not the citizens and suspects, it's the police officers.

Terminating officers because they expose a culture of lying, racism (from the academy), and excessive use of force will immediately change. PSB can not police their own and that has been proven. The blue line will forever be severed and a cultural change will be implanted. You have awoken a sleeping giant.

I am here to change and make policy. The culture of LAPD versus the community and honest/good officers needs to and will change. I am here to correct and calibrate your morale compasses to true north.

Citizens/non-combatants, do not render medical aid to downed officers/enemy combatants. They would not do the same for you. They will let you bleed out just so they can brag to other officers that they had a 187 caper the other day and can't wait to accrue the overtime in future court subpoenas. As they always say, "that's the paramedics job…not mine". Let the balance of loss of life take place. Sometimes a reset needs to occur.