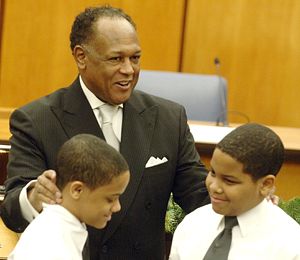 Richmond, VA–Mayor Dwight C. Jones (Mister C.) allegedly forced two children to duel for their lives Monday following their "art" submissions to a new program intended to renew inner-city schools by funneling coke money into Jones' own pockets.
"None of this would have happened if art wasn't allowed in school," said the losing victim's mother Courtney Harris. "I have never felt so ashamed," she confessed, "until I realized my son is a dead loser." Ms. Harris later indicated she is "glad" her son is dead, a shift in opinion analysts say is "notable."
Dwight Jones made no comment about the duel, citing federal gag-orders due to unpaid gambling debts to crack dealers in Jackson Ward, but he did have this to say:
"I have always felt that art in public schools is a waste of money on kids who are inherently talentless but are, as I have proven – better fighters; at least – half of them are."
"Who knows about the dead?" he quipped.
Who knows, indeed? Richmonders are in an uproar over the whereabouts of the dead child's body, who can not be named, due not to legal implications but to the fact that authorities have been unable to locate either the whorehouse to which the boy's mother supposedly belongs, or any records on the child who authorities now believe was born "under the radar." City officials said due to the loser's mom being a straight-up crack-whore, no father can possibly be determined. So far, paternity tests have narrowed the possible fathers down to a short list of five men who share the GCG, or Gary Coleman Gene. But their semen is allegedly so polluted with King Cobra malt liquor that no testing machine can solve the "Riddle of the Richmond Ghetto."
"I hate children, and I support Mayor Jones' decision to enslave them for use in his personal gambling dens. I wish they'd all die, or at least be forced to do other violent things, like fight in wars."

-Anonymous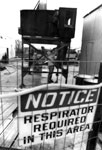 The boy's severely-battered corpse is thought to be somewhere in the James River, a popular dump-point used by the holographic chemical plant Allied Chemical, the shell of a company who once allied with Capitalism to dump kepone, a popular 'cool'cinogen used in roach poison, into the James River, which consequently flowed straight into the kepone-intolerant nervous systems of many workers in Hopewell – a move Mayor Jones applauds enthusiastically as the James River's claim to fame. The forty-year poisoning of Hopewell factory workers marks the country's first environmental disaster that would later give rise to unprecedented shirking of responsibility employed by corporate entities across America.
In the eclipse of U.S. President and War Strategist Barack Obama's Nobel Peace Prize, Mayor Jones finds little reason to carry out a search for the boy, especially given his intimate, but silent knowledge of the child's do-doubt gruesome fate which Jones' publicists said "might spoil the endorsement." Inside sources say the mayor had the boy contaminated with several carcinogenic compounds that would ferry their way via his body to South Carolina lowlands, where the child will cause countless still-births and unexplainable cancers.
No one from the school board or any of the childrens' teachers were immediately available for comment. This is due in part to the fact that people in the ghetto are constantly avoiding bill-collectors, so they don't answer the phone for any unfamiliar number.
More to come on this, as Mayor Jones' indictment goes awry in the second part of our wacky, cocaine-powdered adventure of "Richmond Mayor – druglord to the bitter end."