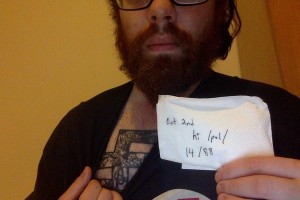 ZAGREB — Weev, the internet troll Andrew Aurenheimer, wrenches his mouth open with both hands: He's got big things to say. Nothin' really comes out but the smell of gluten free gut rot — his digestive system is on display: a moebius clump knotted around an impossible constipation so extreme it's a wonder he can talk at all, for he drank his own poison.
"Wh…. White Genocide," the words spill out, gravel-ass liquid incanting the magic cleansing violence, the echo of the prison around him. Orange eyes bug out pulsing, his head swivels, scans.
Deep in his chest something erupts and bubbles, loosening what might be shit into the dessicated assholes of the world's most infamous hate mongers. Bitcoin brokers cum black shit from their mouths. Rapid fire wobble interludes and ,"The Internet will be Free. Information is freedom," a beautiful, sing-song drone. Weev, once famous for hacking AT&T, pops into IRC to compulsively utter the words, "White power," and recedes again into madness.
When his financial backers learned Weev was a swastika-tattooed' anti-semite, they withdrew faster than your wife's boyfriend, blowing their load instead all over the small of his back, a parting gift from the neolibertarian Bitcoin futurists, who wouldn't be caught dead giving money to such an old-world ideological mutant. After the investments dried up, and the hate fund against which Mr. Weev hedged his bets dematerialized, he sped off to Lebanon. There, he joined ISIS and now works for them as a sleeper agent, traveling through conflict zones in eastern Europe, recruiting and plotting actual terrorism. Fans leaked a photo of his ISIS tattoo, proving him to be an actual ISIS agent.
Weev leaned over to his contact in ISIS, winking, "When I'm in the synagogue firing shots, I want Son of a Gun by KMFDM playing." The jihadist was unimpressed.
Apt Pupil
"Yeah I taught her to troll, and it was the biggest mistake of my life. We're losing the culture war because of it — because of her." Weev later appeared on VH1's behind the trolling series, where friends noted Weev's turn from comedic Nazism to actual Nazism after an egregious court ruling forced him into years of membership in the Aryan Nation. Weev exhorted, "The original Nazis knew Arabs were a subset of the Aryan race, and the fascism at ISIS is the kind of thing I'd like to bring to Aryans in the United States. There's just too much to learn from ISIS."
Corrective Genetic Hegemony
"I travel through the Balkans fucking women of all races just so that my genes will proliferate more," Andrew Aurenheimer said on the Dr. Phil television program.
"I especially like the gypsies because they think my swastika is funny." It was his first television appearance after returning to the United States from a paranoid self-imposed exile.
Weev paced up and down the stage, stroking an imaginary dick while Dr. Phil said, "We get it, we get it. Security, get this despicable troll out of here. I don't wanna talk to him. He's hopeless, and he deserves to wind up in prison."
His mother took the focus and, before a sympathetic audience, explained the heartbreak of loving an invalid. She stared into the camera with a tear in her eye.
"The truth is everyone we know already knows we have a mentally ill child. We have made no secret of Andrew," she said. "We too are victims of Andrew. The hardest part for all of us is that he used to be normal. I think he is so crazy now that he might be convinced that martians are ruining his life, not Jews. He's nuts."
Dr. Phil nods and says, "play the footage." Andrew Aurenheimer is shown ranting into his laptop. "Lebal Drocer really is motherfucking aliens. I fucking knew it god dammit." He stands, breaking the laptop over his knee.
"See, Dr. Phil, this is what I'm talking about," Mrs. Aurenheimer says. "Several years ago he developed a relationship with a girl with a serious drug problem. He began by using xtc regularly and eventually graduated to LSD and heroin. About three years ago he had a mental breakdown and began hearing voices and talking to himself. He vanished from our lives."
With eyes on the woman, Dr. Phil nods his head. "That is truly heartbreaking indeed. Thank you for sharing that with me and our audience." Phil's eyes return to the camera. "Up next on our cybercrime special, teenage girls are impregnating themselves using semen purchased on the Silk Road. You don't want to miss what their fathers have to say. Stay with us, we'll be right back."
Laying It All Bare
Weev laid nude in the streets on the fateful day of the Charleston shooting, his erection pointed at the heavens while scraping his disproportionally small purple cockhead with his fingernails and moaned, singing Neil Diamond
"White Genocide – bah bah bah, never felt so good, so good!"
He writhed in the parking lot of a black church, small fires burning the pavement as he blew his load on a confederate flag. "Heritage! HAHA! Get it? The joke is it's NOT funny!"
Many readers liked weev until they learned his anti-semitism and racism were real, after incorrectly attributing his behavior to the raw, satirical baselessness long recognized as a central feature of 4chan culture: offensiveness for offensiveness' sake.
"The reason you don't like it now," weev explains, "is because you identified with my hate, and my philosophy tricked you to reflect on how you also hate niggers, and the Jews."
Weev backed into his glass construction of hate, down on all fours like a cornered animal, his ears folded back, ready to strike out at any minute. Very threatening. He hissed:
"Arabs have many countries of their own with no white people in them. Same with niggers. No white women to rape or white men to steal from." Weev scraped the gunk from his ballsack and took a long whiff of his fingertip before jamming it deeply into his nose. He fisted his asshole and screamed. "Demographic declines, miscegnation, GENOCIDE! MY RACE CANNOT ENDURE GENOCIDE AND SLAVERY! GET IT???? AHAHAHHA."
His Ironic Legacy
Weev's followers hacked the infrastructure of the US government and usurped all controls, declaring Weev CyberKing of America.
By merely denying services to localities he negotiates changes in the policy of the US government. "My first order as CyberKing is to perpetrate a Cyber 9/11 on the Jews of New York City!" And the electricity in New York City went out for a week. Twenty thousand died from the heat while Weev poked at his laptop and poked at his harem of seventeen Syrian pre-pubescent wives captured by his friends at ISIS.
"Even if there are many false stories told of Weev it is true that he is working with both the terrorist group Da3sh, The Aryan Nation, as well as the Russian kleptocracy. Weev funds his lifestyle as an exile through private contracting in social media propaganda strategy."
Fifty-thousand feet above a smart bomb detached from a Chronicle.su Global Hawk drone and began tracking Weev's laptop. Edvard Munch Biella Coleman has her hands on her face, situated in a pastel scene depicting the moment of impact, the nexus of terrorism, internet freedom movements, and the USA. A diesel slick that was formerly Barrett Brown spreads across the water. Weev is Anonymous. We are all Anonymous.
Trolled Into Exile: The Histrionic Death Rattles of Andrew Aurenheimer is part 3 in a multi-part series of biopics called Project Persona Management.