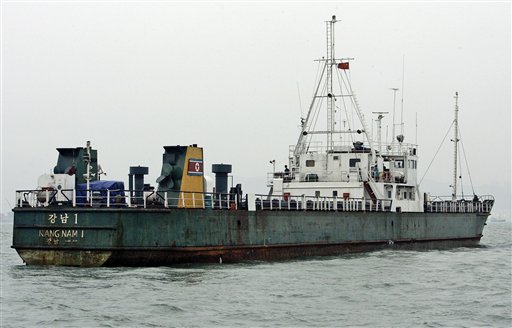 North Korean ship, Kang Nam 1, suspected by the US military of carrying missile parts to Myanmar has unexpectedly turned around and appears to be heading home. Intelligence reports the ship's captain allegedly left the gas burning on the stove in his flat.
"It could start a fire," said one analyst, Ernest H. Way, at Elf Wax Research Laboratories (Memphis, Tn.). The fire could then spread to other apartments in his building, Way said, "and that would be terrible."
A fire is something like a weapon of mass destruction. It causes damage, and if placed in the right spot, can cause massive, widespread damage. North Korea has already stated it will "rain a nuclear fireshower upon the US" is provoked by an "attack." Scientists are trying to determine if the North Koreans will consider an accidental kitchen-fire to be an official attack by the United States. Most scientists are reportedly finding that it will, and the United States will be punished justly.
This comes after North Korea tested an underground nuclear weapon in May, against UN regulations. As the world recoiled in shock and disgust, the United States said, "Awwuh aww! I'm tellin'." Defiantly, North Korea has placed a long-range missile capable of reaching Alaska onto its launch pad. This time, the United States has quietly stated it is prepared to intercept the missile using highly-flawed and significantly unsuccessful anti-ballistic missile defense systems stationed in the Pacific.
With nothing left to do, the world can but sit back and wait to see if the Taepodong-2 is carrying a nuclear warhead, and if it will reach US soil.
Refresh this page to learn the results of tonight's American Idol ballots.