Emotions aren't regularly properly expressed. But today it happened in the unlikeliest of places when a young man went on Facebook and told a girl he still likes that he still likes her.
To the outside community, she is essentially unlikable and yet, feels nothing for him. To protect the names of the dastardly, The Chronicle.SU can not even provide a description because the callousness and distatefulness of this particular girl is so distinct, any complaint about her is too revealing and she will run to the internet cops boohooing over her yeasty, smegma-coated vagina. So trust us this time, as you always do, that she's lame to the point of unmentionable.
Of course, she would disagree, but the absence of her own voice on Facebook indicates nothing of the sort. One of her friends implied that the young man's feelings were irrelevant, writing in a condescending tone so as to belittle him in the act of expression – a clandestine female maneuver that in many cases renders a man impotent on the spot. But in this case, the young man spoke as Stalin from the Glory Days might have spoken, by counterattacking the very ideology behind her comment's motivation.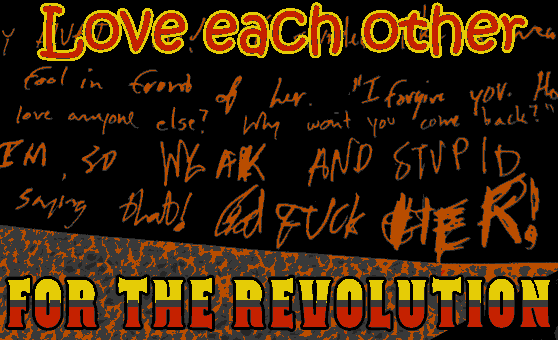 Speaking with poignancy, the young man described his disgust for a system of fear-based behavior patterns and built-in aversions to honesty and direct lines of communication, temporarily disabling the groupthink mentality of Facebook readers in this rippling epicenter of truth. That is to say, he did what he felt like and defended his feelings of love from an attack driven by feelings of fear itself – of oneself. No remorse.
In response, the girl's friend publicly discussed sex and attacked the young man's set of core values, flawed as she saw them, but failed to cite examples. Fear-based arguments are generally rooted in the unknown. In this case, she didn't know what should be important to someone attempting to live a meaningful life and therefore could provide no argument against any other idea, publicly embarrassing herself. Following this, she admitted defeat by copying and pasting a statement from the boy's response, [as if to kick him while "down"] but her hate-motivated actions would only serve to reinforce its meaning. But why should she care? Why should she try to hurt him by telling him that it shouldn't hurt? Furthermore, why does actively want to publicly hurt another human being? The eyes of Fear have officially closed for one young man, and the girl you're reading about here is the afterimage.
All because he said, "This doesn't matter, because nothing matters, so go on about your judgmental business."
Meanwhile, the lame girl of his admiration continues to be lame and it drives the young man crazy because seeing through the eyes of love coats the subject in the eye of the beholder with a thin layer of positive potential. This is the pain of loving.
And that a member of our society can publicly contrive his reason for feeling as sex, reprimand and reduce him for feeling emotions over it disgusts the Soviet Chronicle, which is why we, representing the Second Rise of the Soviet Union, are hereby promoting our brand new Anti-Fear Campaign in the Name of Love.
We propose to our readers, and Comrades, that if you feel something like love, then you should follow it, even if at first it is difficult coming to terms with the truth or opens you up to vulnerability. Be adventurous. To live is the reason for survival.
A Facebooker who wished to remain anonymous told the Chronicle.SU to "Think before you act, but think good, loving thoughts. This is the shortest path to a good life, and easily the most rewarding. I'm not talking about that 'power of positive thinking' bullshit, but about love producing love, man. It's 2010. Are you going to be happy or not?"
Love one another, for the Revolution.