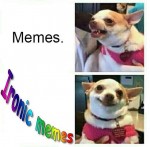 a sore victory for democrats, hill quinton tastes the gold as she bath her self in tears of the sun.
meanwhile doanald trumpf is on fire at the oscars "but why not a blacks>"
We are also post-dank-meme, I say. Sorry, @hatesec.
— Jaime Cochran (@ACKFlags) March 3, 2016
oklahoma . . .