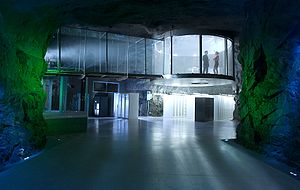 STOCKHOLM, SWEDEN — A backpack weighed heavily on this reporter, as I stood beside one of 30 men in full riot gear regalia, as he, among others, awaited his raid, Friday night, on the Bahnhof Web hosting facility deep beneath Stockholm, Sweden. Goons from the United Nations World Intellectual Property Organization (WIPO) prepared to storm the most secure privately owned Web hosting company on earth. Their target: RonPaul.com.
RonPaul.com, after serving as the grassroots hub for libertarian activists eager to see Dr. Paul become president, has recently received scrutiny from the former congressman's attorneys, who wish to see the server remain safely out of the hands of "the rabble." After the sovereign hand of the U.S. government proved impotent against the mighty force of the Internet, Dr. Paul decided that appealing — closer to grave than cradle — to the globalist nanny state would be his best bet for real justice.
A man, who would only agree to be identified as "Karl," made small talk as he swept snow from the barrel of his Heckler & Koch MP5 submachine gun. Nine-term former Representative Ron Paul (R-TX) stepped between us, the elderly man who personally organized the team after the proprietors of RonPaul.com, he said, "sought to capitalize on my legacy."
Spokesman Jesse Benton — then at my other side, sporting a bulletproof vest emblazoned with the initials "U.N." — winked at me through a gas mask as the WIPO squad prepared to cut through the Web host's alloy door. We could expect the door, a U.N. covert paramilitary officer said before the raid, to be over a foot thick. The former Galveston representative stepped to the front of the crowd of men in ski masks and, from brown paper wrapping, unveiled a brick of material.
"This is nano-thermite, boys," he said with a chuckle. "NIST handed some of this off to me as a congratulatory present on my 2008 New Hampshire primary showing."
After only a few seconds, the door of the compound glowed and disintegrated under the pressure of the igniting thermite. The WIPO men moved in.
One by one the paramilitary officers removed bags from around their shoulders, each unraveling suctions cups on tubes and ominous black machines roughly the size of a normal desktop's power unit. They restrained weeping female workers in the facility, ripped their clothes from their bodies and proceeded to fasten the machines to their respective labia minora.
Dr. Paul, salivating, watched as the women screamed and squirmed as their uteruses were sucked cleaned by the elite globalist soldiers. He said to me, as I wrote furiously his words down, "We have to be sure that these anarchists haven't stored a backup version of the pirate RonPaul.com anywhere in their body cavities. Even their wombs could be offering safe harbor to thumb drives, micro-computers. You know how these namby-fancy Euro-types are."
"The global government has spoken," he added. "We can't allow their offspring to rob or humiliate me or Rand ever again."
Banhof has been host to numerous controversial Internet projects — everything from 4chan.org/b/ to WikiLeaks to the North American Man-Boy Love Association. Members of the WIPO team seemed earnestly convinced that the gynecologist was a member of the 113th Congress, as he seemed to have identified himself on his WIPO complaint form. Dr. Paul left office last month, after declining to seek another term.
A U.N. stormtrooper rushed up a flight of stairs, elegantly polished in steel and IKEA-esque efficiency. He briskly saluted Dr. Paul, then said, "Sir, we've deactivated and transferred to Mr. Benton control of RonPaul.com. We at the training center admire your pro-family agenda. At your discretion, we could also permanently shut down WikiLeaks and NAMBLA, if you'd like." The WIPO paramilitary officer gestured to a Banhof control screen, at which the duo could swiftly and permanently deactivate the whistleblower and pro-pedophilia activists' respective Web presences.
"Deactive WikiLeaks. Those rapist hippies beat me to the punch," said the elfin gynecologist, his hands clasped behind his back. Then, Dr. Paul clenched a fist. "They never did put me on the Intelligence Committee. Leave NAMBLA up, though. Those boys are the new voice of freedom. The rest of it can come down."
"Yes, sir," said the dutiful WIPO soldier, dutifully typing commands into the server, shutting down Web dissidents and deviants as perennially despised as the former presidential candidate.
The aging libertarian turned, staring upwards, having had a realization. "Oh, and one more thing," he said. "Keep Stormfront.org going. I owe Don Black a favor for those campaign donations."