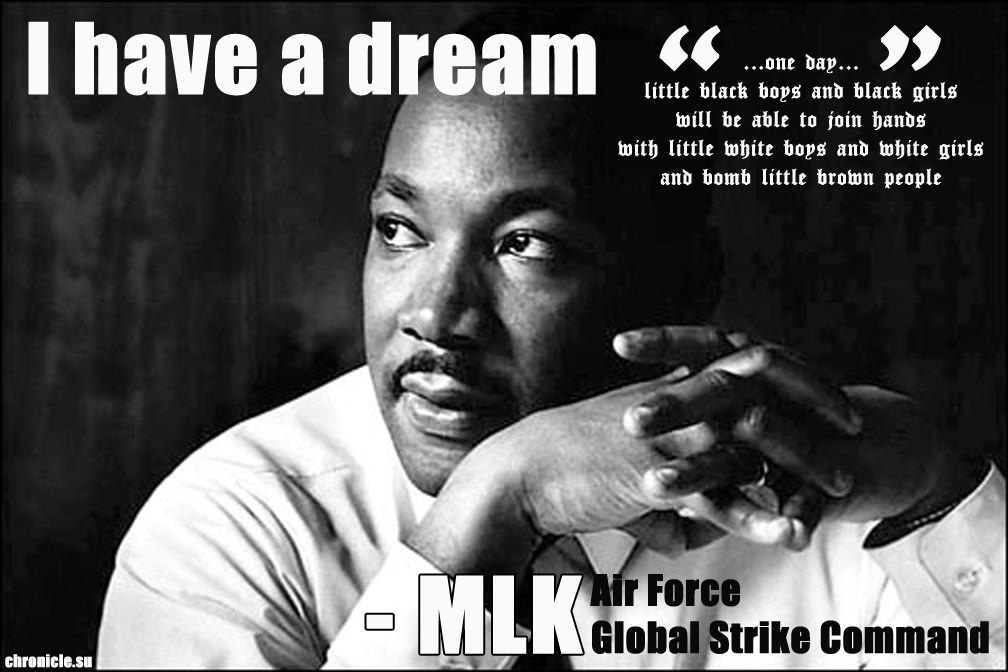 Commentary by Warren Ward
Air Force Global Strike Command Programming Division
1/21/2013 – BARKSDALE AIR FORCE BASE, La.  — Dr. Martin Luther King, Jr.'s 83rd birthday was Jan. 15. . . His courageous crusade for equality was first nationally recognized on Jan. 20, 1986, when President Reagan established the third Monday in January as an official federal government holiday.

Our country, our Air Force and Air Force Global Strike Command can learn much from Dr. King's drive for America to be a nation of equals. . . During his "I Have a Dream" speech given at the Lincoln Memorial in Washington, D.C. on Aug. 28, 1963, King told a gathering of more than 200,000 Americans, "I have a dream that one day this nation will rise up and live out the meaning of its creed, 'We hold these truths to be self-evident that all men are created equal.'"

Dr. King completed his moving presentation with an emphasis on the freedom that equality brings, "…from every mountainside, let freedom ring. . . And when this happens, when we allow freedom to ring, when we let it ring from every village and every hamlet, from every state and every city, we will be able to speed up that day when all of God's children, black men, white men, Jews and Gentiles, Protestants and Catholics, will be able to join hands and sing the words of the old Negro spiritual: Free at last! Free at last! Thank God Almighty we are free at last!"

The Department of Defense is a leader in equal opportunity for all patriots seeking to serve this great nation. . . The vigilant warriors in AFGSC understand they are all equal and unified in purpose to provide a safe, secure and effective deterrent force for the United States. . .

Dr. King would be proud to see our Global Strike team – comprised of Airmen, civilians and contractors from every race, creed, background and religion – standing side-by-side ensuring the most powerful weapons in the U.S. arsenal remain the credible bedrock of our national defense. . . Our team must overlook our differences to ensure perfection as we maintain and operate our weapon systems. . . Maintaining our commitment to our Global Strike team, our families and our nation is a fitting tribute to Dr. King as we celebrate his legacy.
Click Here To Read About Global Wars Martin Luther King Might Have Supported Today If The Government Didn't Assassinate Him