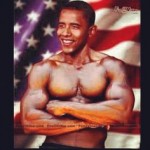 Obama, O-bam-a, O' my Ali Babwa…
a framer for our time,
a fountain for our springs,
with eyes cast keen on our days.
You bear the cross that Jefferson glossed
and carry us on our way.
For there is no cost, no naught for dear us,
we are with you like wrinkles with age.