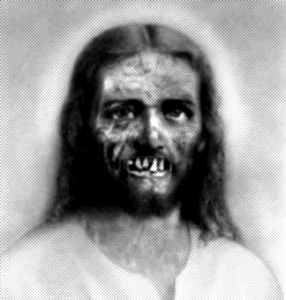 Our Lord and Savior, Jesus Christ, has returned from the dead, making a cameo appearance in the Nazi Zombies update.
The Second Coming, sponsored by Sony and Red Bull, will feature strobe lights and the surviving members of Lynyrd Skynyrd attempting to cover songs off Slayer's hit album Christ Illusion. Some analysts expect "mediocre" renditions of Supremist, "at best."
Long-time fans of the Nazi Zombies mini-game featured in Call of Duty: World at War "can't wait to shoot Jesus."
Said little Jimmy Tinsley, "I'm gonna bury that cock-a-roach!" in a Cuban accent.
Videogame experts say Nazi Zombies is "the only feature that makes the game worth buying," because "the actual game sucks." Videogame experts are not paid for their work, however, and their opinions are invalid – since no one cares about what oily people living under their parents' bedroom think.
It's been a long-standing rumor that Jesus Saves, and XBOX and PlayStation 3 owners will be pleased to discover that killing Jesus will unlock a very useful achievement trophy: the ability to state-save Nazi Zombies – an ability that won't actually affect the random-item box, but saves asses nonetheless.
Theologian Hunter T. Stockton said putting Jesus in a videogame, in which he resurrects, "The Second Coming," only to stuff a shotgun in his mouth is horrifying to Christians and likely to result in petitions, protests and possible banning of all Treyarch games worldwide.
Treyarch, who are dedicated to making shitty, broken versions of once-great titles such as Call of Duty 4, said Christians could "stuff it" and ignorantly suggested they "go back to Christania." What Treyarch's spokesperson failed to realize is that Christians actually originate from a land of fantastic superstition known as Christland – where all prayers are answered within 24-48 hours, regardless of their effect on the natural progression of life as we know it.
Fans can find Jesus down their sights starting Monday, August 10th, 2009.