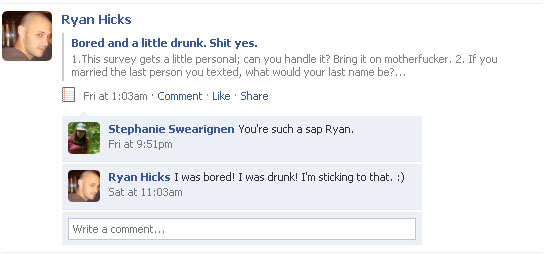 The most legendary website ever to be used for pulling pussy has seen an increase in the number of people drinking alone at their computers and then announcing it through the News Feeding Trough.
The source of the problem, the U.S. Government said, is the sheer lack of anything enjoyable on the website, whatsoever.
"What's with all the poking?" asked Norm Macdonald.
Miller Lite said that, paralleling reality, people in a virtual reality will turn to virtual alcoholism as a means of coping with its ordinary lameness. They seek a relationship that "Goes down smooth, and is not too filling." Fulfilling, that is.
Other sources say that when compared to MySpace (a Rupert Murdoch subsidiary), there is a disproportionate amount of "smart chicks" to slutty easy chicks. "People just aren't posting tits," said a hunch-backed old masturbator named Larry.
More as this develops into a preventable disease.