So we didn't reach out to anybody, exactly. But it did keep me from moving in with a lesbian. You see, I was going to move in with my girlfriend. She's not the lesbian. Just keep reading you lazy fuck, you'll get the story. We don't dumb it down, you'll have to cope, sound it out, we'll get through this together. Anyway, things "didn't work out" so I had to put an advert out on the most hilarious website in the Universe, craigslist. Man, I don't even know where to begin about that website. God it's greater than The Beatles. Anyway, I found this lesbian who was looking for a place to live. Real naive girl who didn't have her shit together but knew she wanted to move out of mommy's house. So, being desperate to move into this sweet, overpriced ghetto apartment as soon as possible, I told her we'd sign the lease together the following day if she liked the apartment. She did like it, and we agreed that it would be pretty cool.
However.
In my craigslist ad, I indicated that I'm an editor for The Glorious and Critically-Acclaimed Elf Wax Times.
Where I live, you can't find peace on the back porch, because some low-life have-not bum will hit you up for a "cig" or failing that, the beer out of your hand. Come test it out if you want. You'll say, "Hey Elf Wax was right, that fucking loser can't afford his own cigarettes, yet somehow he's addicted to them." Actually don't come over. I'm sitting in my underwear playing PS3 online and I don't want shit to do with you unless you are good at Pixel Junk Monsters and have weed. And in this editor's experience, that pretty much means no one's coming over.
Anyway, this lesbian and her dyke mommy fired up the old cable modem and took a peek at what her future roommate has been doing with his livelihood. And boy were they amused, or some other emotional contradistinction of a similar degree. Here's the jist of the half-hour phone call I received at 9 o'clock the same night we looked at the place together:
"Heroin junkheads anonymous. Smack your addiction. How may I help you?"
"James?"
"Yeah what's up?"
"James, we need to talk."
Hot damn, I thought. What's this girl trying to do? Usually only Lauren's allowed to call me saying that. "Sure, what is it?" I asked, knowing it would not be good.
"This website," she began. Jesus Christ, it was just like Weenus, Incorporated and high school. How familiar with this situation I am… "Do you write all the stuff on here?"
"Yeah. You must really like it to want to call me and talk about it. But that's OK, I know it's good."
"Well, my mom and I were looking at it and it's starting to creep me out."
"Creep you out? Was there something on there that bothered you?"
"Well, the last three stories. And basically everything by Media Mogul. Is that you?"
"Ah, well yeah sorta. You see, 'we all' write under that name. I have five writers, every one of them posting under it. Only the regulars get their own pseudonym." I'm starting to cover my ass but I can tell it's already too late. I might even have to kill her.
It goes on like this for the next 20 minutes. She tells me about her ideology and how it affects her to the core. "I'm a lesbian, and a lot of the stuff you say. Like your opinions. Like, I don't know if I'm gonna have to put a padlock on my bedroom door, ya know?" (those doors are hollow honey, a padlock won't do you any good, I thought) "Am I gonna have to look over my shoulder all the time? Sleep with my eyes open?"
I'm laughing quietly to myself at this point. I even mute the phone to tell the others around me what I am hearing, as well as relaying our conversation via gmail chat to some of the other writers online. It was just so unbelievably funny, that I had to make sure others could remember it as it happened, or else it'd be forever denied as some fabrication or a future embellishment of an early point in the Grand Legend of The Elf Wax Times. This website has cost me a roommate.
The first casualty of war between The Elf Wax Times and the world was not a job, or a friend, or a girlfriend, or my car, or a possession charge – but a dyke roommate. No loss, she had bad teeth and an ugly haircut. Oh, and her attitude was just deplorable, not to mention embarrassing.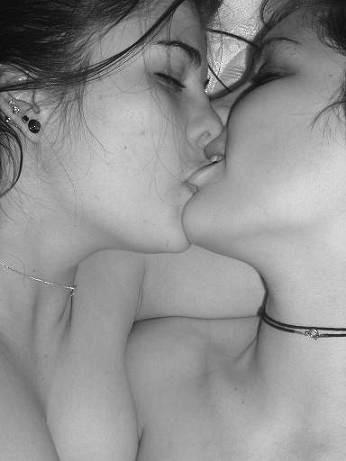 "There's a lot of penis love, and woman hating. And I understand that – boys will be boys." Yep. And stupid judgmental, hypocrite lesbians will be stupid hypocritical lesbians. This is a girl who expressed to me "We shouldn't have police. That's just my opinion. That's why I want a shotgun. The police are pointless. Fuck the government. We'll take care of ourselves." I remember thinking to myself, hey a lesbian I can agree with." And in all fairness, it stands to reason that a person who harbors such a strong opinion toward the government and humanity might not necessarily love the Elf Wax Times, but see that there's room enough for this line of thinking, questioning, enough to where any reasonable man would expect the same kind of acceptance for his beliefs equal to that which he gracefully engages, right? Wrong. Not with judgmental hypocrite lesbians. In fact, once we got to talking about The Times, I said, "Yeah I remember you talking 'down with the government.' You ever think about writing? We need writers."
"Yeah, poetry," was her response. The tone of her voice changed to cautious optimism.
I said, "Oh, well nevermind. We need real writers."
And that was pretty much that. She called me the next morning waking me up with some excuse about insurance. "If I move out of my mother's place, I lose my insurance, and that's like $1,400 and I just can't afford to move out now, I guess." I thought, yeah whatever, but if that really is the case…then what we've got is not only a judgmental homosexual hypocrite, but a stupid judgmental homosexual hypocrite – almost reduntant in theory, but certainly not in practice. Way to plan ahead, stupid bitch. Or way to tell a transparent lie because you're too spineless to stand behind some stupid shit you said. Either way, good fucking riddance.
And that's about all there is to say about the worthless cunt from two weeks ago. Except that yeah, we here at The Elf Wax Times still would've hit it.
And hey, this isn't to say we hate women, or even gays or gay women. In fact, lesbian porn is alright. I have lesbian friends that I wouldn't want to see in a lesbian porno, but then again, they're probably not real lesbians. Gay friends, too, people I would do anything for. Well, anything but that. Plus, you'll never have a gay guy get in your face and say, "Hey Bubba, I think Christian's the only way to be and I'll take you out back and kick yer fuckin' ass if ya say it ain't again." You'll never meet a gay guy who threatens your alpha male status. Likewise, you'll never meet a gay guy who steals your girlfriend, unless they're going shopping – and if that happens, bring him over for dinner at least once a week to ensure a long and prosperous relationship with your happy girlfriend who no longer makes you shop with her. You'll also never accuse a woman of "shopping around with other men." All in all, leg-shavers aren't too bad, either. But mostly they are.
On that note, I would like to change the subject. The Rolling Stones stole a beat from Bo Diddly. But the law doesn't protect drumbeats from copyright infringements. Go figure.
Moving on, I'd like to completely change the subject again using this beautiful transition that I call a period following a sentence. You like it because I tell you to like it. You're a coward and too afraid to formulate your own opinion, so I'm going to tell you what to think here in a minute. Just sit tight. I learned this from Rush Limbaugh.
Alright, I've got myself another beer and I'm one step closer to enlightenment. Or blacking out. One or the two, they're both the same in the cold, dark end, following a well-timed nuclear holocaust. Now it's time to molest your little eyes with the truth, my babies. Prepare yourselves for a pointed statement.
Noam Chomsky said that the reason he is not on these late-night TV talk shows can be summarized by one word: concision, something he reportedly lacks. And it's a judgment he agrees with because, you see, politics and economics and social structure are complex issues that require thoughtful, lengthy dialog, sometimes in the form of exchanged monologue. TV News and Talking Head Shows require their guests to answer a question or refute a claim in two sentences or less. It can't take more than 30 seconds. The whole idea must be discussed between commercial breaks. Given this, actual intellectual discussion is abandoned, retarding any true progression of American ideology and standing in the way of enlightening discussion of important issues such as the military-industrial complex, the space program, the failures of mainstream media, or the government's role in health care, if any. This means Noam Chomsky simply won't be heard, in spite of the fact that he is the most reasonable, thoughtful man you'll ever hear talking about modern issues that affect us all. His ideas may lack "concision", but make up for it by the fact that after listening to him, you are enlightened and put at ease; put at ease not by means of pacification, or pandering, but you find yourself eased by reason, something TV news is lacking, and something we've learned to live without. Noam Chomsky is what's wrong with America, simply by way of the fact that no one  gets to hear him argue with anybody.
I've heard him called extreme once – in a YouTube comment. He's been called liberal – by a Conservative. He's never been called a liar, though, and he's never lost objectivity.
The real reason he's not on TV can be summarized by middle school algebra, actually. Meet the Press wants to talk about story A and how it relates to story B. Story A indicates this and that, while story B reflects Story A's ability to really outline the effects of Story B and A+B=A all over again. Let's consult Mr. Chomsky on this. Chomsky's response? "Well A and B are correlated, there's no denying that, but you will see that if you look back through history and compare it to what's happening with Story C and even the peasants revolt taking place today in Story D (EDITOR: didn't see C and D coming, did ya fucker?), you'll see that Story A and B are just an unfortunate side effect of Story E and what's going on in relation to Story E. Now you see, Story E is unique because of this and that, and I think if we step back and think—"
"Oh, I'm sorry Mr. Chomsky that's all we've got time for tonight. Thank you for coming on – we've still got so much to talk about. I really hope you'll come back and talk to us again, it's been a pleasure having you."
Concision, kids. He lacks it. But did you ask for it? Write NBC, ABC, CBS (leave Fox alone, though, nobody takes them seriously except your stupid neighbor) and tell them you want real discussion on important events. They'll laugh at you of course, but you can always tell them…just to say you did it, I guess. But let's face it. Nothing's going to change. They'll ride us like whores because we let them fuck us like whores. And when I said write to the networks, I meant mail them letter-bombs with concise slogans like HOPE or CHANGE written on the packaging. They listen to concision, apparently, so maybe this is a good approach. Nothing says concision like a bomb-blast to the face, which is all that TV news is, if you think about it. Domestic terrorism of the mind.
Fuck concision. Concision is something lesbians like. "We're here! We're queer!" ….I know. Your point? Oh, you've been conditioned not to actually substantiate a claim by nightly news programs such as Heads Talk and Important Issues THAT MATTER MOST TO YOU, YOU FUCKING MCDONALD'S EATING PIECE OF SHIT HYPOCRITE. Yeah, I understand. The concision of your sound-byte argument makes up in attitude what it lacks in substance, right? Did Bill O'Reilly teach you that? Your own worst enemy is often who you parallel, or intersect perpendicularly – or inconsequentially, as you see fit.
'But hey…I listen to Rage Against the Machine,' you think. Stand up to the Man, you fucking lazy honkies. I swear to God, we need the fucking bombs of freedom exploding over our skies. They'll call it terrorism, but that's how America was fucking born, and how it'll die. Bombings. Carpet-bombings. Nuclear bombings. Gas-bombing our own students, anti-protests and tanks running over people, just like the streets of China – that's our future, America. And you welcomed it here when you voted for sleaze bags with big campaign finances in the local primaries – fuckers like Bill Richardson would not have even gotten close to the Presidential Race if it weren't for you. And he seemed like a good guy when pitted against Mitt Romney and the likes of Gore, Obama and fucking Hillary Quittin. And McCain…what a joke. What a joke the whole god damn thing has been. You told it America, and I guess my reaction is the punchline?
I got an email today. The subject line reads "Fear is Winning." I agree. It's from freepress.org. They're big money grassroots. I met them at the National Conference for Media Reform last year (or was it the year before last?). They're big money. I used to campaign heavily, personally taxing myself at great lengths to protect net neutrality and that's how I got wrapped up with them. They do email me every so often, saying, "Net Neutrality under fire again." I think that issue is their catch-all. People have donated a lot of money to them in the name of Net Neutrality, believing that's all they do. I don't know, man. I used to really follow them. I would even go so far as to mail out their auto-letter, where the thing is written for me or I could add what I wanted to it. I don't know if I trust them anymore, though, given that they make all that money, and I am afraid to just sign a letter they've already written for me. So I don't do that anymore. I write my own letters. Congress used to get letters from me saying, "I would like you to vote on proposition 327 in favor of…" – now they read, "You savage fucking crooks! How could you rape your own countrymen as if we are your back-alley whores and prostitutes. We don't serve you, you serve us, now get down on your knees and pray to your fake-ass God you don't have to work for all that money you get."
I think the message is clearer my way. But I still use freepress's handy interface to "mail my local congresswhore."
So after all this, I bid you goodnight, dear readers, and I hope that I wake up tomorrow and find in the AP wire "Extremist exposes himself to a federal judge after reading internet news column." I'd do it for you, dorks. Now fuck off, I'm drunk.