Springfield, Ill.–A cat has contracted the H1N1 virus, better known as "swine flu." The local veterinarian said it probably caught it from a human family member.
Dr. Ann Garvey, Iowa Department of Public Health Veterinarian, said cats trade influenza with humans, and this can be expected. But was it?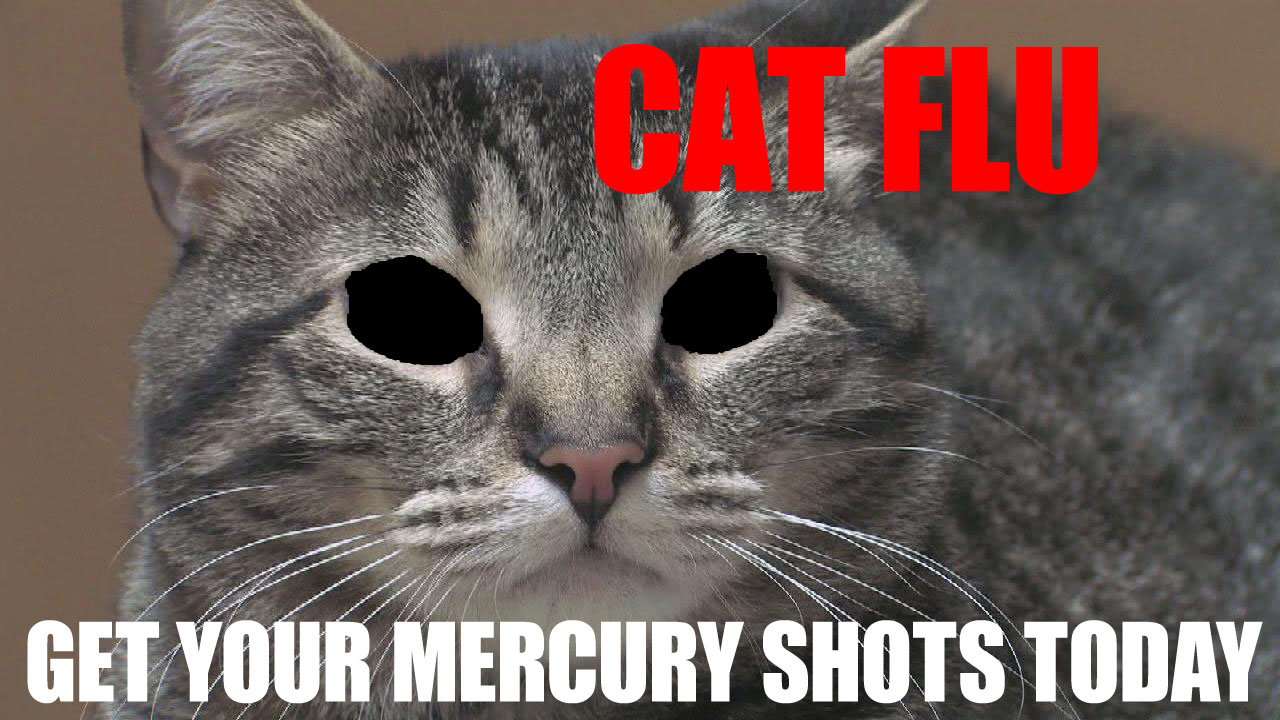 According to Elf Wax Health Expert, Dr. Langstrom T. Armstrong, Cat Flu is a dangerous mutation of the Swine Flu that doubles in strength following its rebound off the stout feline immune system.
"The Cat Flu, or Pussy Cold – or Cold Pussy, as we like to call it here at The Times, is not as funny as its name implies," he said. "Cat Flu symptoms are much more damaging than the H1N1 virus from which it mutated. It begins by attacking the brain's frontal lobe, compromising one's sense of loyalty.
"People may turn on each other, become distant, live on the fringes, and develop disloyal instincts. My girlfriend contracted cat flu and that bitch can die one thousand deaths in Hell. If you notice these symptoms in your friends or family, tell a government official right away. They will be quarantined, and if need be, incinerated to ensure the disease can not spread," Dr. Armstrong advised.
Dr. Armstrong went on to warn that anyone suspected of carrying cat flu should be de-clawed and left in the woods where they are to be abandoned physically, intellectually and emotionally. "The bitch of it," Dr. Asrmstong said, "Is you gotta disconnect yourself in every way from a person with cat flu so when we incinerate 'em it doesn't hurt you so bad."
"Really, incineration is the thing."
ELF WAX UPDATE:
PRESIDENT BARACK HUSSEIN OBAMA HAS ORDERED THE MASS QUARANTINE OF ANY AND ALL U.S. CITIZENS WHO ARE POTENTIALLY CARRYING THE DISEASE TO BE ROUNDED UP AND PUT INTO CAMPS. IF YOU OR ANYONE YOU KNOW HAS CAT FLU, REPORT THEM TO THE FBI IMMEDIATELY, OR ELSE FACE THE CONSEQUENCES OF BEING LABELED A DOMESTIC BIOLOGICAL TERRORIST FOR AIDING IN THE POISONING AND DESTRUCTION OF HOMELAND SECURITY. DO NOT SLEEP, AMERICA.
This just in:
CAT FLU IS RAMPANT. S.O.S. SEND HELP IMMEDIATELY. THE TIMES OFFICE
IS BEING OVERRUN BY ZOMBIE-EYED CAT PEOPLE. ABANDON ALL HOPE.
COLLAPSE IMMINENT. MAY GOD HAVE MERCY ON OUR SOULS.