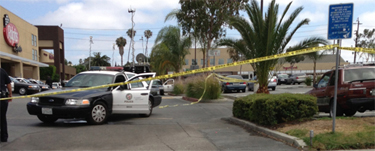 VENICE, LOS ANGELES — A Venice man is in critical condition after an unlikely Sunday driver ran him down at a crosswalk. The 34-year-old YouTube celebrity Shay Butler was observed "vlogging" while driving his Toyota Tundra along Washington Boulevard, when he ran over a man who has not yet been identified.
Sources close to "youtube's family" confirmed the celebrity patriarch was out getting ice cream for the 'Tards and vlogging while driving when he struck a middle-aged man with his truck.
"Vlogging" is the practice of blogging through live or recorded video.
"He almost didn't stop," said Marina Del Ray patron Thomas Bandy. Bandy said he was nearby when the accident occurred.
"He had one of those flip cameras and the flip panel was turned out, pointed at him and you could see he was just staring at himself, going down the road. I don't think he knew he hit somebody. We was all yelling, 'stop, stop'."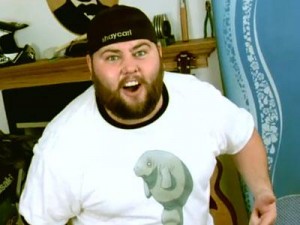 The victim's family has asked the media to respect his privacy. Shay Carl, who is known for putting every inconsequential moment of his family's lives on display for the Internet, still has not released a video explanation for why he left the scene before officers could respond. [pullquote]Shay Carl was always trying to prove Mormonism did not affect his demeanor.[/pullquote]
The Shaytards, who still have not let go of their derogatory self-title, refuse to give in to the growing number of requests to change their name on the grounds that it is not what it looks like. "Shay Carl" loves retards, and viewers say the name comes from an early viral video in which the patriarch chases one of his children around in a leotard.
"Shay Carl was always trying to prove Mormonism did not affect his demeanor, but he came off too happy – too approachable," said longtime acquaintance Jeremy Hoffstetter, 32.
"It was off-putting. Whenever he came around and was being overly nice, I got worried he was gonna try to push his freaky cult religion on me. You know, Mitt Romney's a Mormon, too. Think about that."
The following video demonstrates Shay Carl's blatant disregard for public safety, as he records himself driving his pregnant wife around in the middle of the night
Fans describe the Shaytards' YouTube show as being "more real than reality TV," because of its lack of direct conflict. Some say the Shaytards are the YouTube family they never had.
Dr. Angstrom H. Troubladauer, Resident physician for the Internet Chronicle, said celebrity worship is an old social disease.
"People are going to be really upset about their Internet folk hero running someone over," Troubladauer said. "But what you're going to have to realize is that while you might love and adore this Tard family – and even consider yourselves to be a 'Tard – the 'Tards don't even know you."
Troubladauer said society's distorted view of love and the human condition presents new problems as our heroes, by virtue of the Internet, look more and more like us.
"They appreciate you in the sense that because you watch them, they don't have to work. But I'm going to be real interested to see how the mom-Tard handles this. I always got the sense she doesn't want to be on camera, anyway. Women can't stand anything that even remotely resembles work."