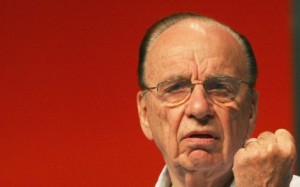 As chronicle.su strikes up lucrative new advertising deals, rumors suggest Australian media mogul Rupert Murdoch is closing a deal of his own with Lebal Drocer, Inc.
Business analysts predict the transaction could transfer majority control of The Internet Chronicle to News Corp, Murdoch's multi-national, benevolent corporation.
Longtime Chronicle editors Kilgoar Trout and Hatesec reportedly met with Murdoch on his yacht Monday morning off the coast of Tripoli. The editors are in Libya on an embed with the US Defense Department to document the extraordinary success of the 2011 NATO humanitarian bombing campaign.
After stepping off the yacht, Kilgoar and Hatesec apparently held an impromptu press conference for a bunch of fishermen and dock workers. Speaking in broken Arabic, Hatesec reportedly told the workers that they "would not be taking questions at this time" and to "call our lawyers, you fucking mutts." The fishermen merely shrugged and sailed off into the Mediterranean.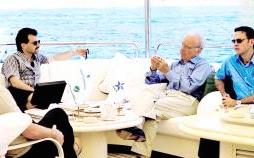 Empires are vast. This move fits in with Murdoch's recent consolidation of influential media outlets across the political spectrum. After acquiring VICE, Murdoch set his sights towards other alternative news outlets, in search of the next big thing to contaminate.
An aide to Murdoch, speaking on condition of anonymity, said he came across the Chronicle one night while searching for kiddie porn on the Deep Web. After perusing its contents, his hard-on became stiff as a cricket bat, especially after reading Kilgoar's Pulitzer Prize winning report on Mel Gibson's joining Rage Against the Machine.
"Rupert likes honest reporting. He is committed to integrity and truth telling in the newsroom," the aide said. "So naturally he wants to acquire the Chronicle."
While Murdoch's influence is often subtle and benign on his media outlets, it is possible that he will censor the editorial duo at the Chronicle, both of whom are hardline Democrats.
Dr. Angstrum H. Trubidur, a professor of media studies on sabbatical in Benghazi, said of the move, "Hell, them boys Kilgoar and Hatesec? Yeah they don't know who they're dealing with. What, they think they are still gonna be able to print hard news? Le'me tell ye, they'll be going the VICE route before long: glittery, vapid, meaningless reporting while the truth is left on the cutting room floor."
In a company-wide e-mail sent by Kilgoar right before publication, he assured the staff that their wages and benefits would not be affected if any merger were to happen. Reporters at the Chronicle were relieved as, unlike VICE, the Chronicle is known for paying livable wages to its staff and showering benefits upon even the most meager of its contributors.
When asked to comment on the proposed merger, Hatesec replied via e-mail, "Go fuck yourself."